ATEX Keyboards with approval to II2G Eex ib IIC T4,
Intrinsically Safe, Zone 1 and Zone 2
Typical Ex Code:II 2 G Ex ia IIC T4
Available with touch pad or joystick mouse control
The keyboard can be directly mounted and hinged on the HMI-Elements 800-Z1, 900-Z1, 1302-Z2 and 1202-Z2 models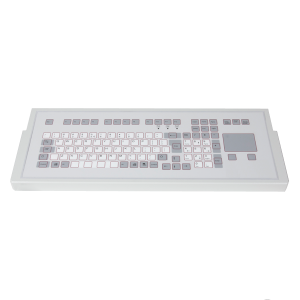 ATEX KEYBOARD :

TYPICAL EX CODE
II 2 G Ex ia IIC T4
DEGREE OF PROTECTION
IP66
USE
within Zone 1 & 2 and Ex area
TECHNICAL DETAILS
Rafi short stroke keyboard No of keystrokes 1 Mio operations using a force of 2.55 to 0.65 N Travel 0, 3 0, 2-0, 1 mm
KEYBOARD TYPE
MF2 (102 keys) keyboard with integrated Touch-Pad (2 keys)
INTERFACE
PC AT, PS/2 compatible
CABLE LENGTH
1.50m
LANGUAGE VERSIONS
English US-layout, Norwegian German and French, other languages available on request
AMBIENT TEMPERATURE
-30°C to +60°C (-22°F to +140°F)
STORAGE TEMPERATURE
-40°C to +70°C (-40°F to +158°F)
ENTITY PARAMETERS
Ui = 5.7V
Ii = 350mA
Pi = 1.2W
Ci = 59.4 uF
Li = 0
Exi Keyboard Interface
If you need to use a Keyboard in a Zone 1 hazardous area but connect to a keyboard in a safe area you will need to interface via a Keyboard isolator
TW-100   
The Ex i interface TW-100 enables safe operation of external input devices for PC's in the Ex area. It fulfils the degree of protection EX II (2) G [Ex ib] IIC and IP 54, it can be used in zones 1 u. 2. The maximum cable length between the interface and periphery is 20m. Simple plug and play without special cable allows fast and easy installation.
Technical data: U = 5.4V; I = 135mA; P = 0.7W; C = 65μF; L = 1.6mH; T = -30 … + 60 ° C amb.
Connection: 2x PS / 2 to PC, 2x PS / 2 socket for input devices.
H x W x D: 130 x 164 x 44 mm,
Weight: 0.7 kg (without screws and plug).
For more application details please contact our sales team