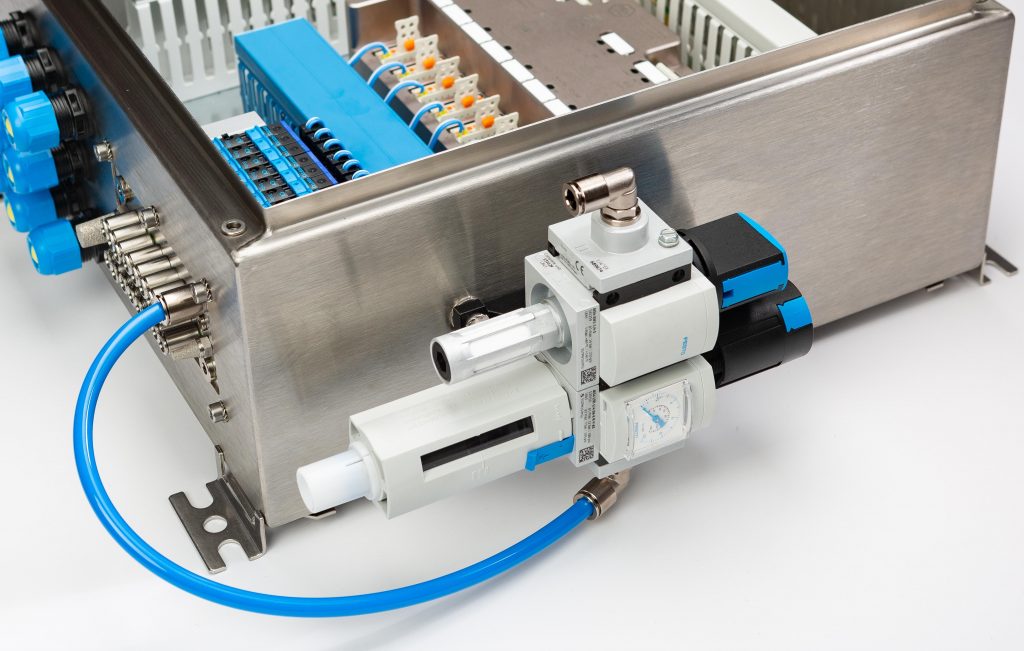 With the 3 in 1 solution, the plants and machine builders have a decentralized and compact Remote IO valve terminal for the first timefor controlling pneumatic actuators for the hazardous area Zone 1/21.
The Ethernet connection (Profinet or Modbus TCP / IP)
is executed in increased safety Ex e.
Ex media converters or fieldbus couplers in the safe area are not required and the full Ethernet performance can be used.

No IO modules required on the PLC
The BEx1 module does not have to be parameterised or configured and behaves transparently in the control I / O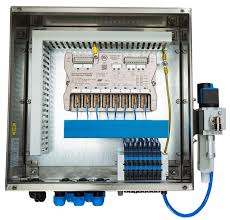 Paint shops

Pharmaceutical plants

Chemical plants

Tank farm
Bulk materials handling systems

Mixing / grinding plants

Industrial heating / cooling systems

Sewage treatment plants and much more
Customer benefits
Compact – Simple – Fast
Central Ethernet connection, central compressed air connection
The compact housing enables optimal decentralized installation in the system and guarantees short distances to the sensors and the pneumatic actuators.
No compressed air tubing inside the housing.
Cost savings and less installation effort
The ATEX certified system in the field housing is designed for installation in Zone 1/21The BEx1 Remote IO valve terminal combines bus nodes, isolating switching amplifiers, intrinsically safe IO channels and the pneumatic valve terminal.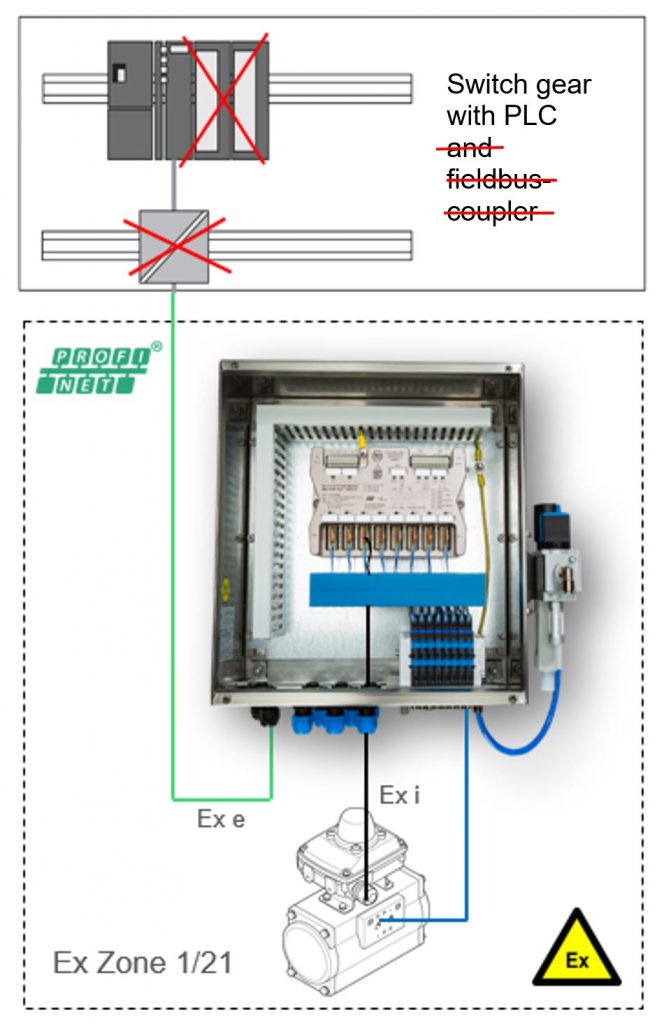 Functions and communication
Features
Up to 16 valve terminals 3/2
Up to 8 valve terminals 5/2 oder 5/3
Or combinations
(Valve terminals are installed and pre-wired)
16 Namur inputs for position feedback
Design
Field housing example variant with 8 valvesMaterial: Stainless steel 1.4404 (V4A)Protection class: IP 65Size: 380 x 380 x 161 mmOperating temperature: -5°C* to 40°C(*Pressure dew point: -15 C, alternatively class x:3:x according to ISO 8573-1: 2010)Approval: TPS 07 ATEX 61951 1Type of protection: II 2(1) G/D Ex e mb ib [ia Ga] IIC T4 Gb Ex tb [ia Da] IIIC T80°C
10 cable glands M20x1.5 (2x Ex e, 8x Ex i)1 BEx1 Remote IO module1 Valve terminal CPV10 Ex i 8x 3/2 valve1 Pneumatic aluminum multipole1 Maintenance unit combination MSB4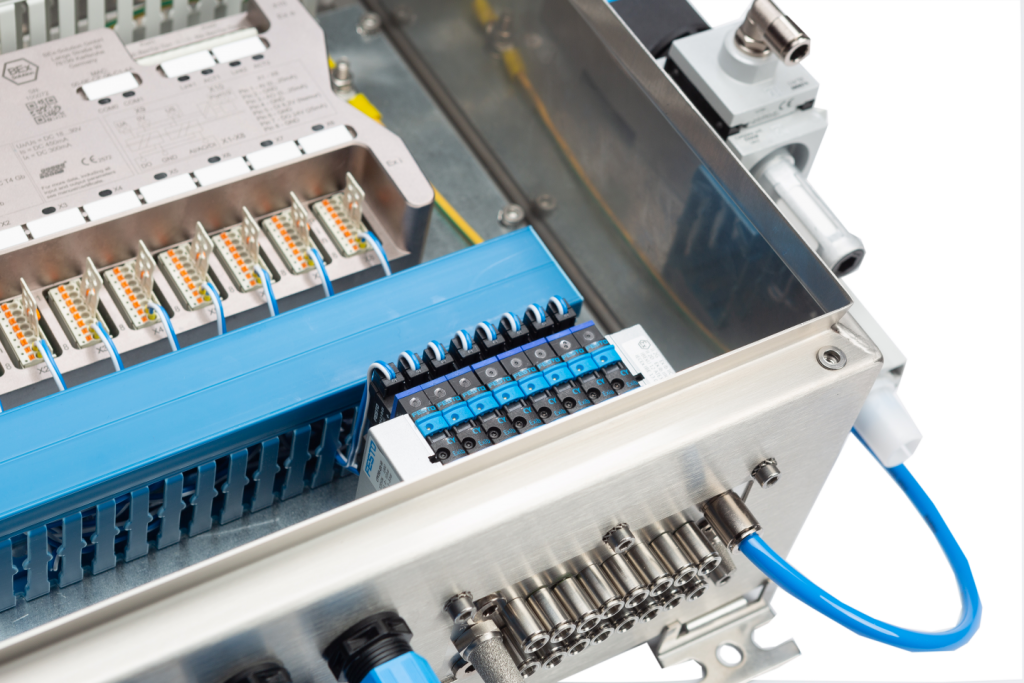 Valve terminal
The valve terminal CPV10-EX-VI is intrinsically safe
II 2G Ex ib IIC T4 (-5°C ≤ Ta ≤ 50°C)
(*Pressure dew point: -15 C, alternatively class x:3:x according to ISO 8573-1: 2010)
Pneumatic multipole aluminum for wall passage,
sealing IP65
Valve discs 10 mm wide, nominal flow 400 l/min
Operating pressure: 0 .. 10 bar ; Control pressure: 3 .. 8 bar
Max. 8 valve disc
Up to 16 valve functions on 3/2 valve terminal
(2 per valve disc)
Up to 8 valve functions on 5/2,- 5/3- valve terminal
mono- and bistable, normally closed, normally open
Manual override detent, groping or blocking
Service unit combination MSB4
Manual on-off valve (3/2-way), lockable,
with ventilation and exhaust air silencer
Manual pressure regulator with manometer, lockable
40μm filter with manual condensate drain
Fittings and compressed air hose Festo on request