D6000 Series
High Performance Signal Conditioners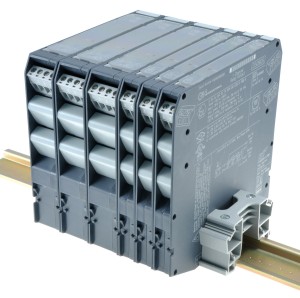 D6000 Series
• High signal transfer accuracy and repeatability.
• Advanced circuitry provides very low heat dissipation, ensuring modules run cool despite their high density and functionality.
• SMD manufacturing for long, reliable life.
• Complete absence of electrolytic capacitors ensures minimum 20 years lifetime.
Wide functionality
• Wide range of digital and analog I/O.
• Three port galvanic isolation to eliminate noise, ground loop problems.
• Line fault alarm detects open or short circuit of field cables.
• Optional power bus DIN-Rail connector.
• Standard Termination Board with SUB-D connector and customized Boards compatible with major I/O cards.
• EMC Compatibility to EN61000-6-2, EN61000-6-4, EN61326-1, EN61326-3-1 for safety system.
General features
• Modules suitable for applications up to SIL 3 level according to IEC 61508, IEC 61511.
• Independent power supply circuit for each channel.
• Dual channel units are equivalent to two single units because of the absence of common circuitry.
• Single channel versions available when required, to provide single loop integrity .
• Configuration components are easily accessed by removing the side cover.
• DIP switch configurability for easy field setup.
• LED indication for power, signal status and line fault conditions.
• Modules accept DC power supply over a wide range for 24 Vdc (20-30 Vdc) applications.
• Wide operating temperature range: -40 to +60/+70 °C.
High packing density
• 35 mm (Top Hat) DIN-Rail.
• Ultra slim 2 channels 12 mm wide DIN-Rail or 8 channels into 22 mm
• Termination Board mounting modules.
• Power and fault on bus connectors.
• 3/6 mm per channel means more than 50% space reduction
Models Available
D6011S  –  1 channel Non-IS SIL 3 Repeater Power Supply Hart     More details
D6011D  –  2 channel Non-IS SIL 3 Repeater Power Supply Hart    More details
D6014S  –   1 channel Non-IS SIL 3 Repeater Power Supply Hart    More details
D6014D  –  2 channel Non-IS SIL 3 Repeater Power Supply Hart    More details
D6020S  –  1 channel Non-IS SIL 3 Powered Isolating Driver Hart    More details
D6020D  –  2 channel Non-IS SIL 3 Powered Isolating Driver Hart    More details
D6030S  –  1 channel Non-IS SIL 3 Switch/Proximity repeater, Relay Output   More Details
D6030D  –  2 channel Non-IS SIL 3 Switch/Proximity repeater, Relay Output   More Details
D6031S  –  1 channel Non-IS SIL 3 Switch/Proximity repeater,  Transistor Output  More Details
D6031D  –  2 channel Non-IS SIL 3 Switch/Proximity repeater, Transistor Output   More Details
D6212Q  –  4 channel Non-IS SIL 2 Repeater Power supply More details
D6231E   –  8 channel Non-IS SIL 2 Switch/Proximity Detector Repeater,  O.C. Output   More details
D6254S   –  1 channel Non-IS SIL 2 Signal Converter and Trip Amplifier  More details
D6263S  –   1 channel Non-IS SIL 2 Strain gauge repeater  More details
D6264S  –    1 channel Non-IS SIL 2 Strain gauge convertor Analogue and Modbus O/P   More details
D6072S  –  1 channel Non-IS SIL 2 Temperature Signal Converter, Multifunction   More details
D6072D  –  1 channel Non-IS SIL 2 Temperature Signal Converter, Multifunction   More details
D6073S  –  1 channel Non-IS SIL 2 Temperature Signal Converter, Multifunction, Trip Amplifiers   More details