Distran Ultra Pro
Accurate and Fast Gas Leak Detection
Versatile for High or Hard-to-Reach Areas
Integrated 124 Ultrasound Microphones for Precise Localization
Real-time Overlay with Wide-Angle Optical Image
Easy Report Creation with Audalytics Software or Preferred Software
Streamlined Processes for Improved Efficiency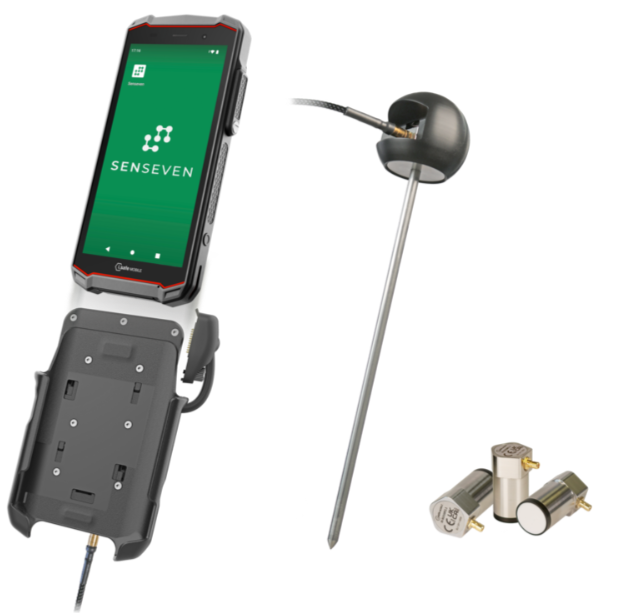 IS-VS1A.1
Mobile inspection system for leak detection

Combines high-quality acoustic emission sensors with the 5G smartphone IS540.1 and Senseven software

The system offers intuitive operation and automatic leak detection

Provides structured data management and fast data processing with a high-quality processor

Unique maintenance tool designed for demanding industrial environments
IS-TC1A.1
ATEX Zone 1 / 21
Capture, analyze and document thermal images
Direct data transfer via multifunctional (ISM) interface
Direct interface connection with the device, no Bluetooth® necessary
Power supply via the connected device, therefore no battery necessary
IS-TC1A.2
ATEX Zone 2 / 22
Capture, analyze and document thermal images
Direct data transfer via multifunctional (ISM) interface
Direct interface connection with the device, no Bluetooth® necessary
Power supply via the connected device, therefore no battery necessary
FLIR Cx5
ATEX Zone 2 Certified
Thermal Camera
IR Resolution: 160 x 120px
3.5″ Touchscreen
70mK Thermal Sensitivity
Store 5000 Images Internally
ToughPix Digitherm
ATEX and IECEx Certified
Adaptive Thermal Blending
5 megapixel digital camera with automatic, motorized focus. Capture high resolution visual images
WIFI Download images directly to your tablet or smartphone with the CorDEX CONNECT Mobile app or via an onboard webserver.
Rechargeable removable battery
ATEX Inspection Equipment
At Exloc, we understand the critical importance of ATEX inspections in hazardous environments. That's why we offer a comprehensive range of cutting-edge equipment designed to ensure utmost safety and compliance.
Portable Gas Detectors: Our portable gas detectors are the industry standard when it comes to detecting and monitoring potentially hazardous gases. With advanced sensor technology and user-friendly features, our gas detectors provide accurate and real-time gas readings, enabling early warnings and efficient risk mitigation.
Thermal Cameras: Our state-of-the-art thermal cameras are essential tools for identifying thermal abnormalities. By detecting potential hazards before they become critical, our thermal cameras help maintain a safe and secure environment. With advanced imaging capabilities and intuitive controls, our thermal cameras deliver unmatched performance for ATEX inspections.
When it comes to ATEX inspections, Exloc is your go-to for top-quality equipment. Our extensive product range, combined with our industry expertise, ensures that you have access to the best tools for maintaining a safe and compliant workplace.