Intrinsically Safe, High-Resolution, Digital IP Camera
SeSys ATEX and IECEx cameras provide clear, high resolution images for live monitoring and include integral storage to record any images for post processing or record keeping. Recording can be event driven (using motion light, or an external trigger for a sensor for example) and these events can also be used to generate alarms, sending images to alert users or ARCs (alarm receiving centres) of any activity.
Cameras are connected using PoE (Power over Ethernet), providing associated installation and maintenance cost savings and an installation that is flexible, reliable and safe.
Providing digital PTZ and optional day/night lens functionality, SeSys ATEX and IECEx camera have no moving parts; ensuring low power, low maintenance and a long lasting (high MTBF) camera system and the most cost effective solution.
For low light areas that require monitoring, the ATEX and IECEx cameras can be fitted with integrated LED lights and input triggers that can be switched on and off as required. LEDs provide a long lasting and low power solution, achieve maximum intensity very quickly, illuminating the area in front of the camera. The lights can switched on and off via the camera's web interface, and automatically switch off when they are no longer in use.
6 MP Single & Dual Lens Explosion-Proof Camera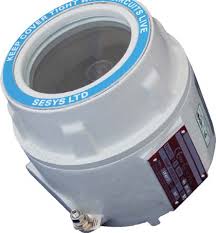 6 MP Single Lens Explosion-Proof Camera