IS-VS1A.1
Inspection System for Leak Detection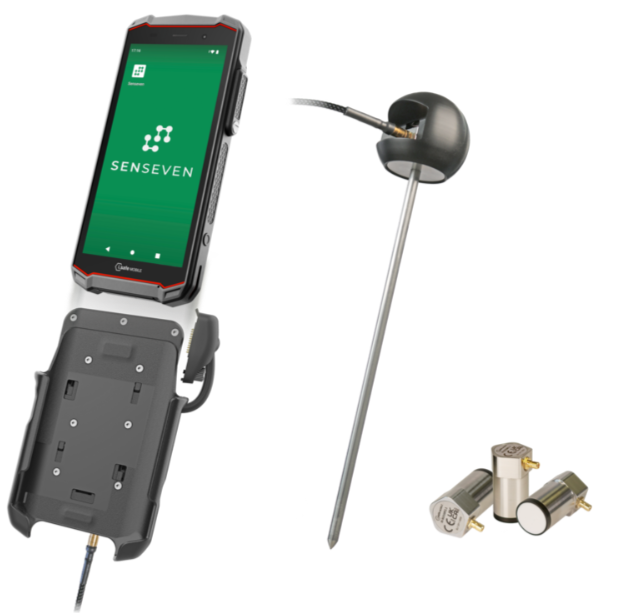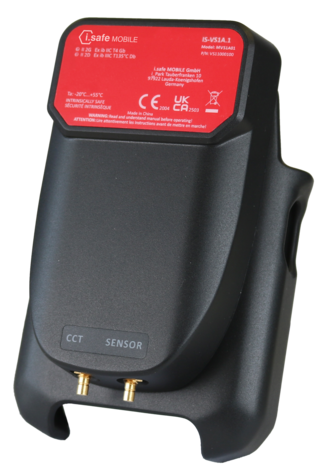 Valve Sense
Introducing the Valve Sense mobile inspection system, the ultimate solution for efficient and precise leak detection in valves. By integrating top-of-the-line acoustic emission sensors, the cutting-edge 5G smartphone IS540.1 and the state-of-the-art Senseven software, we bring you an intuitive, automatic, and reliable leak detection tool.
This unparalleled system offers structured data management and boasts a high-quality processor for lightning-fast data processing, making it the go-to gas leak detection tool for demanding industrial environments.
The IS-VS1A.1 is powered by connecting the device to the IS540.1 smartphone.
Key Features
User-friendly without expert knowledge
Leakage detection through algorithms and AI
Software-guided inspection process
Automated data transfer to cloud-based back office
Cost savings through predictive maintenance
Avoid unplanned production downtimes
How Does it Work?
Four Quick Steps to Instantly Identify and
Generate a Report on Gas Leaks
Identify The Valve
Scan a Barcode, RFID tag, QR Code or enter the identifying code for the valve you wish to inspect. This enables you to maintain consistency and accountability throughout your inspection process.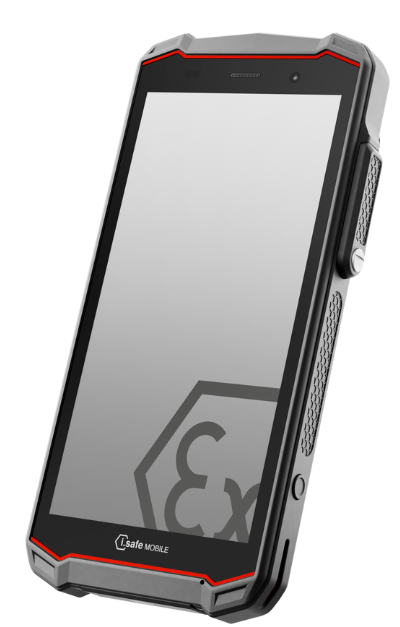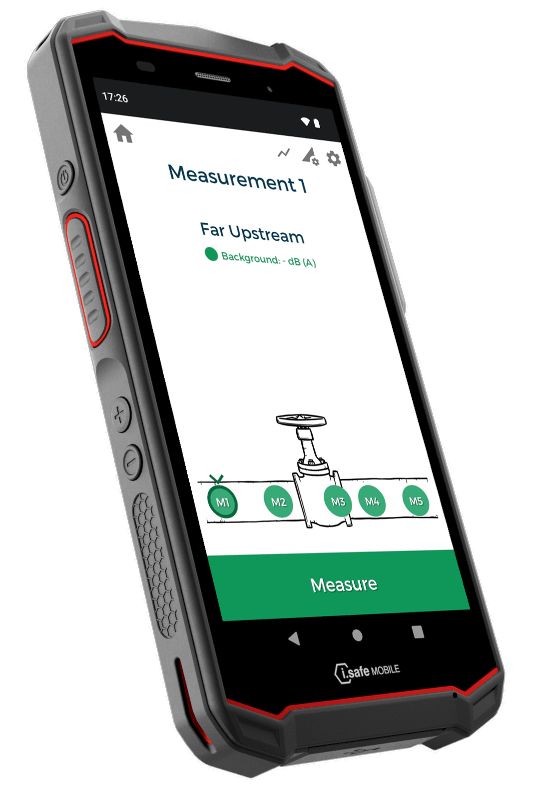 Measurement
Collect the aucoustic emission signals by following the step-by-step guide as to where to measure on the valve.
Instant Results
The algorithm will automatically detect whether a valve is leaking or not.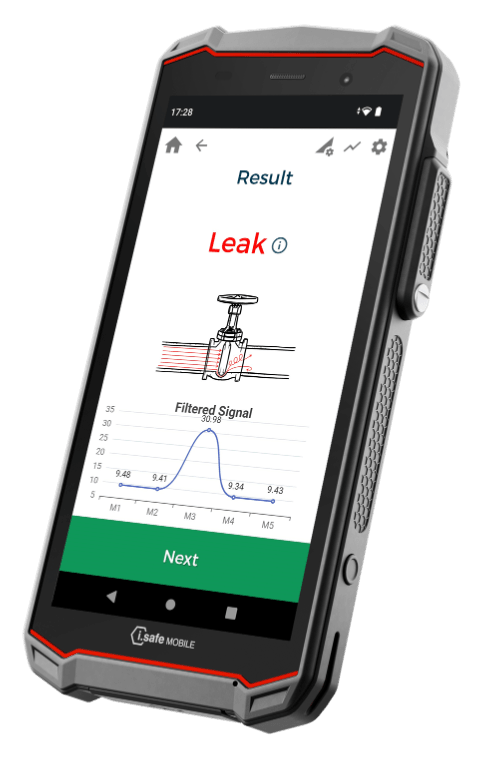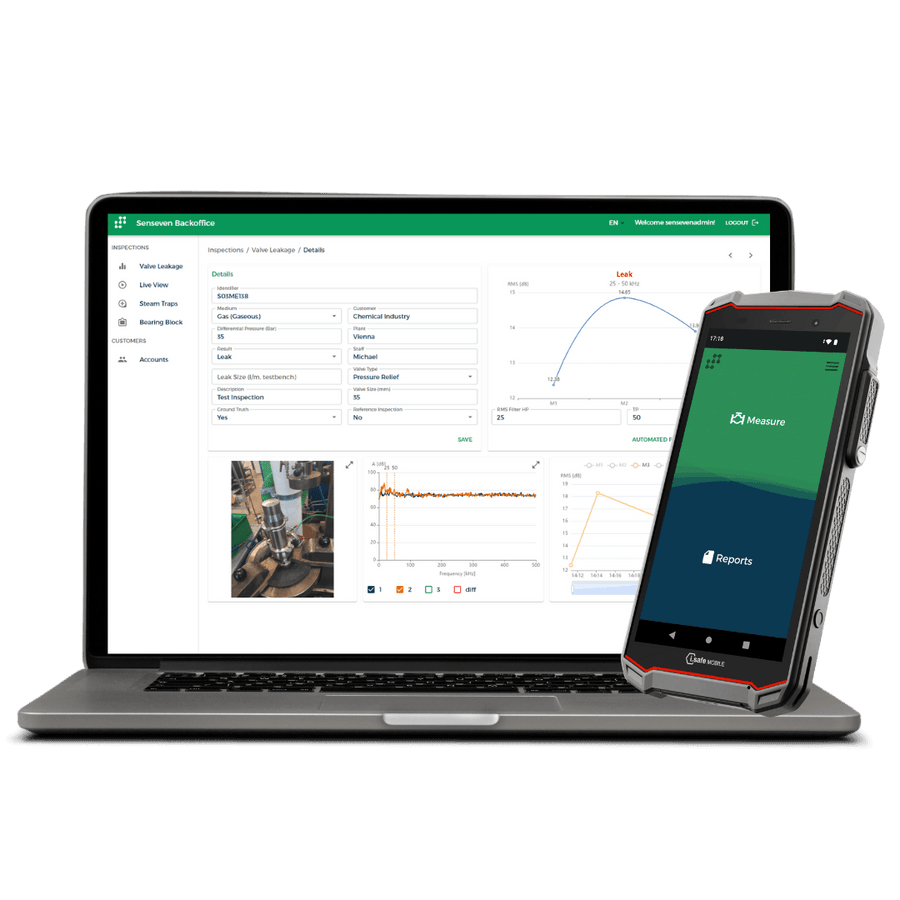 Instant Reporting
Derive further maintenance measures and create action plans based on Sensevens' reports.
| | |
| --- | --- |
| Analog band width from (kHz) | 20 |
| Analog band width to (kHz) | 500 |
| Input range | 94 dBAE / 100 dBAE |
| Sampling rate | Res.: 2 MHz / 16 bit |
| Noise floor | <12 μVRMS (95 – 300 kHz) |
| Power consumption | <700 mW |
| Dimensions | Weight: 219,3 g |
| Types of protection | Usable from -20 °C to +55 °C |
ATEX (Europe)
applied for
II 2G Ex ib IIC T4 Gb
II 2D Ex ib IIIC T135°C Db
UKEX (United Kingdom)
applied for
II 2G Ex ib IIC T4 Gb
II 2D Ex ib IIIC T135°C Db
IECEx (International)
applied for
Ex ib IIC T4 Gb
Ex ib IIIC T135°C Db
NEC500 (North America)
applied for
Class I Div. 1 Groups A, B, C, D, T4
Class II Div. 1 Groups E, F, G, T135°C
Class III Div. 1
Measuring electronic IS-VS1A.1
Sensor IS-SU150F1.1
Sensor IS-SU150F2.1
Waveguide Lock IS-WGLF1.1
Waveguide IS-WGxx.1
Sensor Cable
Coupling medium
Coupling film
Smartphone IS540.1
i.safe PROTECTOR 2.0
Power Adapter universal
Screwdriver
Safety Instructions
Quick Start Manual
Display Protection Foil
Display cleaning cloth
Carrying case