D1000 Series
I.S. Isolators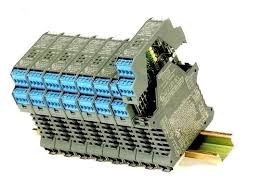 D1000
High Packing Density
High channel density result from innovative circuit design using advanced surface mount components.
Ultra slim 4 channels 22,5 mm wide DIN rail mounting modules.
6 mm per channel.
176 I/O channels per meter of DIN rail.
Single, dual or quad channel I.S. Isolators
High performance
High Signal transfer accuracy and repeatability.
Advanced circuitry provides low heat dissipation, ensuring modules run cool despite their high functionality
Low power consumption.
SMD manufacturing to maximize long, reliable life.
Features
Single channel versions available if required, to provide single loop integrity on Emergency Shut Down and Fire & Gas applications
Configure using DIP switch for easy field set up.
LED indication for power, signal status and line fault conditions
35 mm (Top Hat) DIN Rail
Plug-in screw terminal blocks to secure termination up to 2,5 mm2
Models accept DC power supply over a wide range (20-30 V) 
Wide operating temperature range.
Analogue Input modules
D1010S  –  1 Channel, 0/4-20 mA TX Repeater Power Supply, SIL 3    D1010S Data Sheet
D1010D  – 2 Channel, 0/4-20 mA TX Repeater Power Supply or Duplicator, SIL 3    D1010D Data Sheet
D1012Q  –  4 Ch, Quadruple Repeater Power Supply    D1012Q Data Sheet
D1014S  –  1 Channel, high integrity 4-20 mA TX Rep. Power Supply, SIL 3    D1014S Data Sheet
D1014D  –  2 Channel, high integrity 4-20 mA TX Rep. Power Supply, SIL 3    D1014D Data Sheet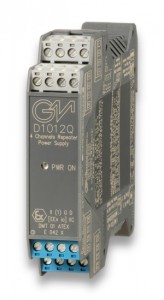 Analogue Output modules
D1020S  –  1 Channel, 0/4-20 mA I/P Isolating Driver, SIL 2    D1020S Data Sheet
D1020D  –  2 Channel, 0/4-20 mA I/P Isolating Driver, SIL 2    D1020D Data Sheet
D1022S  –  1 channel. Loop Powered Fire / Smoke Detector Interface    D1022S Data Sheet
D1022D  –  2 channel. Loop Powered Fire / Smoke Detector Interface    D1022D Data Sheet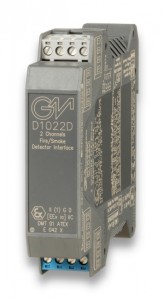 Digital Input modules
D1030S  –  1 channel,  Switch/Proximity Detector Input,  Relay Output,  DC Power    D1030S Data Sheet
D1130S   –  1 channel,  Switch/Proximity Detector Input,  Relay Output,  AC Power    D1130S Data Sheet
D1030D  –  2 channel,  Switch/Proximity Detector Input,  Relay Output,  DC Power    D1030D Data Sheet
D1130D   –  2 channel,  Switch/Proximity Detector Input,  Relay Output,  AC Power   D1130D Data Sheet
D1031D  –  2 channel, Switch/Proximity Detector Repeater. Transistor Output    D1031D Data Sheet
D1031Q  –  4 channel, Switch/Proximity Detector Repeater. Transistor Output    D1031Q Data Sheet
D1032D  –  2 channel, Switch/Proximity Detector Repeater. Relay Out, SIL 2    D1032D Data Sheet
D1032Q  –  4 channel, Switch/Proximity Detector Repeater. Relay Out, SIL 2    D1032Q Data Sheet
D1033D  –  2 channel, Switch/Proximity Detector Repeater, Transistor Out, SIL 2    D1033D Data Sheet
D1033Q  –  4 channel, Switch/Proximity Detector Repeater, Transistor Out, SIL 2    D1033Q Data Sheet
D1034S  –  1 channel, Transparent Digital Repeater for Safety PLC, SIL 3    D1034S Data Sheet
D1034D  –  2 channel, Transparent Digital Repeater for Safety PLC, SIL 3    D1034D Data Sheet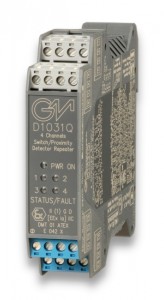 Digital Output modules
D1040Q  –  Single to Quad Channel Digital Output Isolating Driver, SIL 3    D1040Q Data Sheet
D1041Q  –  Quad Channel LEDs Isolating Driver, SIL3    D1041Q Data Sheet
D1042Q  –  Single to Quad Channel Digital Output Isolating Driver, SIL 3    D1042Q Data Sheet
D1043Q  –  Single to Quad Channel Digital Output Isolating Driver, SIL 3    D1043Q Data Sheet
D1044S  –  1 channel,  Relay Output Module    D1044S Data Sheet
D1044D  –  2 channel,  Relay Output Module  D1044D Data Sheet
D1045Y  –  2 channel, Digital Output Loop / Bus Powered  D1045Y Data Sheet
D1046Y  –  2 channel, Digital Output Loop / Bus Powered    D1046Y Data Sheet
D1048S  –  1 channel, Digital Output Driver Bus Powered for NE Loads, SIL 3    D1048S Data Sheet
D1049S  –  1 channel, Digital Output Driver Bus Powered for NE Loads, SIL 3    D1049S Data Sheet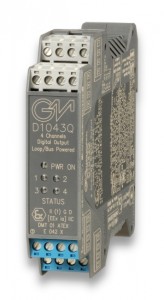 Signal Conditioners and Trip Amps
D1052S  –  1 Channel  programmable signal conditioner mA, V – Input/Output SIL2   D1052S Data Sheet 
D1052D  – 2 Channel  programmable signal conditioner mA, V – Input/Output SIL2    D1052D Data Sheet
D1052X  –  1 Channel  programmable signal conditioner mA, V – Input/Output Duplicator    D1052X Data Sheet
D1052Y  –  2 Channel, Analogue Signal Converter Selector / Adder / Subtractor    D1052Y Data Sheet
D1053S  –  1 Channel, Analogue Signal Converter and Trip Amplifier  SIL2   D1053S Data Sheet
D1054S  –  1 Ch, Analogue TX Repeater, Power Supply, and Trip Amplifier  SIL2   D1054S Data Sheet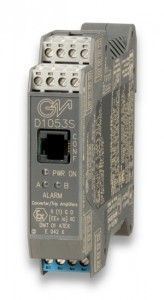 Temperature Input modules
D1072S  – 1 Ch; TC-RTD-Tx Pot Input; mA-V Output; Fully Software Programmable, SIL2    D1072S Data sheet
D1072D  – 2 Ch; TC-RTD-Tx Pot Input; mA-V Outputs; Fully Software Programmable SIL2    D1072D Data Sheet
D1073S  –  1 Ch; TC-RTD-Tx Pot IN; mA / V OUT + 2 Trip Amplifiers; Fully Software Program; SIL 2   D1073S Data Sheet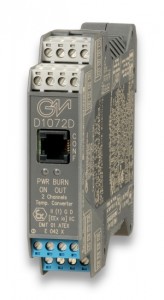 Frequency – Magnetic pick up / encoder modules
D1035S  – 1 Ch;  0 -50 KHz input Range; Pulse Output    D1035S Data Sheet
D1060S  – 1 Ch;  0 -50 KHz input Range; Pulse Output + mA-V + Trip Output   D1060S Data Sheet
RS485, RS422 Serial modules
D1061S  –  FieldBus / ModBus Isolated Interface; Communication speed up to 1,5 M bit/sec, RS485, RS422;     D1061S Data Sheet
Vibration input modules
D1062S  – Vibration Monitor Sensors Isolated Interface; SIL 2    D1062S Data Sheet
Load Cell / Strain Gauge input modules
D1063S  –  1 to 4 parallel 350 Ohm Load Cell Input; 5V, 80 mA total capability; 6-Wire IN-OUT, Fully Transparent;  D1063S Data Sheet
D1064S  –  1 to 4 parallel 350 Ohm Load Cell Input; 5V, 80 mA total capability; 6-Wire Input, 4-20 mA & Modbus Output;   D1064S Data Sheet
Flammable liquid detector input modules
D1080D  – 2 Ch; Relay Output SPDT; Suitable for 3 Wire probes    D1080D Data Sheet
D1081D  – 2 Ch; O.C. Transistor Outputs; Suitable for for 3 Wire probes   D1081D Data Sheet
D1180D  – 2 Ch; Relay Output SPDT; Suitable for for 3 Wire probes; AC Power Supply   D1180D Data Sheet
Programming kits
PPC1090  – Pocket Portable Configurator required to configure programmable units   PPC1090 Data Sheet
PPC1092  – PC Adapter to configure D1000 series programmable units; Include CABF010, USB Adapter & SWC1090