iSOLATE501 – RF Galvanic Isolator
The iSOLATE501 is an ATEX and IECEx approved RF galvanic isolator for use in Zones 0, 1, 2/22 and mining applications. It is the next generation of Extronics ground breaking technology, designed to improve further on the performance of the industry proven iSOLATE500.
II (1) GD [Ex ia Ga] IIC, [Ex ia Da] IIIC
I (M1) [Ex ia Ma] I

AIS Class I, II & III Division 1, Groups A-G, Class I, Zone 0, Group IIC

-60°C ≤ Ta ≤ +80°C
Why the iSOLATE501?
The iSOLATE501 provides galvanic isolation to give protection against dangerous transients. This makes the majority of standard RF outputs intrinsically safe, meaning that you can use most non-certified antennas within hazardous areas, for example the Extronics iANT200 range of high quality and rugged outdoor antennas.
iSOLATE-CT – Explosion Proof Connector Transit 
II 2 GD Ex d IIC Gb
Ex tb IIIC Db
I M2 Ex d I Mb
Class I,II,III, Division 1, Groups A-G
Class I, Zone 1 Ex d IIC Gb
Class I, Zone 21 Ex tb IIIC Db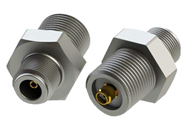 The iSOLATE-CT is designed for use with the iSOLATE501 range of galvanic RF isolators to enable quick & simple wireless deployments in hazardous areas.
When fitted to an explosion proof enclosure containing the Extronics iSOLATE501, the RF ports of standard wireless radio device are protected by the intrinsic safety concept, facilitating their use in Zone 1 / Division 1 environments.
By the use of an IP66 industry standard 'Type N' RF connector, the need to make off cable glands is eliminated and installation made simple. Users no longer have to use a limited range of certified antennas and can quite simply live connect & disconnect the wireless antenna of their choice e.g. Extronics iANT200 range of high quality rugged outdoor antennas, which are IP66 for the most extreme and arduous environments.
Any antennas not listed in the Extronics range must be assessed by the user to ensure they meet the requirements for installation of non-electrical equipment in hazardous areas. The iSOLATE-CT RF connector must be used with suitably rated ATEX/IECEx approved intrinsically safe apparatus or associated apparatus, appropriate for the Zone in which the equipment is to be installed.
Typical Ex d Installation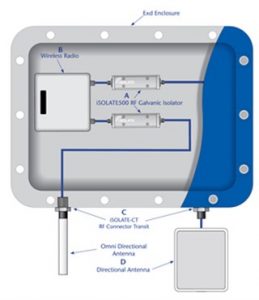 A – When deployed in either a safe area or Exd enclosure, the iSOLATE501 makes any RF output intrinsically safe from all known faults; AC, DC, Hazardous Transients.
B – Any wireless radio device can be deployed. Check device data sheet that RF output is within acceptable limits. No notified body assessment required
C – The iSOLATE-CT N type RF connector transit makes installation simple – no need for glands – use standard tools – live connect & disconnect of antennas.
D –  Allows a wide choice of antennas to be used without notified body assessment. Improved wireless performance from standard high-performance antennas – not limited range of certified omni antennas (user must assess risk as per guidelines for that country – Extronics iANT2xx range already assessed as safe to use).
Wireless Antennas
Enable Full Wi-Fi & GSM Coverage in Hazardous Areas and Extreme Environments
iANT range
All either certified in their own right or fully assessed as 'simple apparatus' under intrinsic safety standards, the iANT range gives a wide choice of antennas