D5000 Series
G.M. Internationals

NEW

universal mount

D5000

series I.S. Isolators provide the most simple and cost effective means of implementing Intrinsic Safety into your Hazardous Area applications.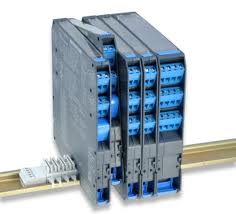 Wide functionality
Compatible with a wide range of measurement and process control applications.
SIL 3 Safety relay contacts rated 4 A / 10 A for direct switching of loads.
Three-port galvanic isolation to eliminate noise, ground loop problems.
Intrinsic safety without need for high integrity ground.
Line fault detection for open or short-circuit wiring.
Mounting on DIN-rail w/wo power bus, or on termination panels.
Standard or custom integration on termination panels
High performance
High signal transfer accuracy and repeatability.
Very low heat dissipation despite high density and functionality.
SMD manufacturing to maximise long, reliable life.
Absence of electrolytic capacitors—minimum 20 years lifetime.
160 channels per one meter DIN-rail / 6mm per channel
Power and fault signals on same bus connectors.
Individual module hot swap.
Analogue Input modules
D5011S  –  1 channel SIL 3 Repeater Power Supply Hart,     D5011S Data Sheet
D5011D  –  2 channel SIL 3 Repeater Power Supply Hart,       D5011D Data Sheet
D5014S  –  1 channel SIL 3 Repeater Power Supply Hart,     D5014S Data Sheet
D5014D  –  2 channel SIL 3 Repeater Power Supply Hart,      D5014D Data Sheet
D5212Q   – 4 Channel SIL2 Repeater Power Supply (Modbus)  D5212Q Data Sheet
Analogue Output modules
D5020S  –  1 channel SIL 3 Powered Isolating Driver Hart,     D5020S Data Sheet
D5020D  –  2 channel SIL 3 Powered Isolating Driver Hart,     D5020D Data Sheet
Digital Input modules
D5030S  –  1 channel, SIL 3 Switch/Proximity Repeater, Relay Output     D5030S Data Sheet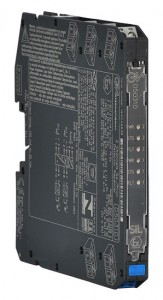 D5030D  –  2 channel, SIL 3 Switch/Proximity Repeater, Relay Output     D5030D Data Sheet
D5031S  –  1 channel, SIL 3 Switch/Proximity Detector Transistor Out,   D5031S Data Sheet
D5031D  –  2 channel, SIL 3 Switch/Proximity Repeater Transistor Out,   D5031D Data Sheet
D5032S  –  1 channel, SIL 3 Switch/Proximity Repeater Relay Output (Termination board only)    D5032S Data Sheet
D5032D  –  2 channel, SIL 3 Switch/Proximity Repeater Relay Output (Termination board only)   D5032D Data Sheet
D5034S  –  1 channel, SIL 3 Switch/Proximity Interface,   D5034S Data Sheet
D5034D  –  2 channel, SIL 3 Switch/Proximity Interface,   D5034D Data Sheet
D5036S  –  1 channel, SIL 2 Switch/Proximity Interface –  D5036S Data Sheet
D5036D  –  2 channel, SIL 2 Switch/Proximity Interface –  D5036D Data Sheet
D5037S  –  1 channel, SIL 2 Switch/Proximity Interface –  D5037S Data sheet
D5037D  –  2 channel, SIL 2 Switch/Proximity Interface –  D5037D Data sheet
D5231E   –  8 channel, SIL 2 Switch/Proximity Detector Repeater, O.C. Output  D5231E Data Sheet
Digital Output modules

D5040S  –  1 channel, SIL3 Digital Output Driver,   D5040S Data Sheet
D5040D  –  2 channel, SIL3 Digital Output Driver,   D5040D Data Sheet
D5240T  –  3 channel, SIL3 Digital Output Driver,   D5240T Data Sheet
D5048S  –  1 channel, SIL 3 Digital Output Driver,   D5048S Data Sheet
D5049S  –  1 channel, SIL 3 Digital Output Driver,   D5049S Data Sheet
D5244S  –  1 Channel,  SIL 3 Digital Relay Output, Loop Powered    D5244S Data Sheet
D5244D  –  2 Channel,  SIL 3 Digital Relay Output, Loop Powered    D5244D Data Sheet
PSD5201  –  1 Channel,  SIL 3 Digital Output Driver   PSD5201 Data Sheet
Trip Amplifier – Analogue I/P
D5254S  –  Analogue I/P  Trip O/P –  D5254D Data Sheet
Frequency Convertor / Trip Amp modules
D5060S  –  Prox I/P – Analogue & Trip O/P – Coming Soon
Vibration input modules
D5062S  –  SIL 2 Vibration Transducer Interface    D5062S Data Sheet
Load Cell / Strain Gauge input modules
D5263S  –  Transparent Repeater – D5263S Data Sheet
D5264S  –  Analogue and Modbus O/P – D5264S Data Sheet
Temperature Input modules
D5072S  – 1 Ch. SIL 2 Temperature Signal Converter, Multifunction    D5072S Data sheet
D5072D  – 2 Ch; SIL 2 Temperature Signal Converter, Multifunction    D5072D Data Sheet
D5072S-087  –  1 Ch; RTD/Resistance Isolating Repeater   D5072S-087  Data Sheet
D5072D-087  –  2 Ch; RTD/Resistance Isolating Repeater   D5072D-087  Data Sheet
D5072S-096  –  1 Ch; Thermocouple Isolating Repeater  D5072S-096  Data Sheet
D5072D-096  –  2 Ch; Thermocouple Isolating Repeater  D5072D-096  Data Sheet
D5273S  –  SIL 2 Temperature Signal Converter, Multifunction, Trip Amplifiers  D5273S Data sheet
Power Bus System Distribution & Diagnostic Modules
D5202S  –  SIL 3, 4 A, 24 Vdc Power Distribution and Diagnostic Module  D5202S Data Sheet
D5203S  –  Common Alarm Module (SPDT) for D5000/D6000 Series  D5203S Data Sheet

Programming kit

PPC5092  – D5000 Series Adapter for D5000 Configuration, includes USB Adapter & SWC1090 software  
Configuration Software SWC5092
 

Termination Board Mounting

Mount up to 8 or 16 modules for up to 64 I/O channels
Dual redundant 24VDC power connections with fuses
Multipin connector for safe area connections
HART multiplexer connections
Common fault output terminals
Optional design accommodates two relay modules to provide separate relay contacts for power and I/O line fault indication
Termination boards can be DIN rail or panel mounted
Custom Termination Boards (Honeywell, Trinconex, ABB, Invensys, Yokogawa, Emerson, Hima, Schneider, Siemens, Bailey)