A290001
The A290001 POE/ Zone 1 Ethernet Extender is ATEX certified and doubles, triples or even quadruples the normal 330ft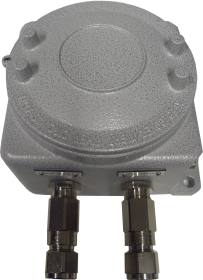 (100m) CAT5 cable run length for 100BaseT networks.
It forwards both Ethernet and POE for another 330ft (100m) using a patent-pending power-processing scheme and multiple units can be employed in series for even longer distances, with no degradation in network speed or latency.
The A290001 itself is powered by a POE network switch (or POE injector) hence requires no separate power connection in the middle of the cable.  This makes it extremely easy to connect and power IP cameras or Access Points located two or three times further away than previously possible without going to fibre or installing midspan power sources.
Installation couldn't be simpler, there is no set-up or configuration required and the only connections are the two network cables allowing instant operation of the A290001!
No network set-up is necessary as A290001 does not use a MAC or IP address and is undetectable to other network devices
For installations that reach beyond 200 metres, it is possible to connect two or more A290001's in a chain, with up to 100 metres of cable between each A290001 or device. Links may be extended up to 1000 metres in this way, depending on the power requirements of the connected POE devices and other factors.
Using the A290001 in your installation brings the benefits of POE to the whole site. Most significantly, mains power installation is not required for remote switches or network devices such as IP cameras. Installation costs become more predictable, as the A290001 offers a fast and low-cost solution to underestimated cable lengths or changes to equipment locations.
The A290001 is fully transparent which means that there are no restrictions on data traffic.