Ultra 2
Portable ATEX Rechargeable Floodlight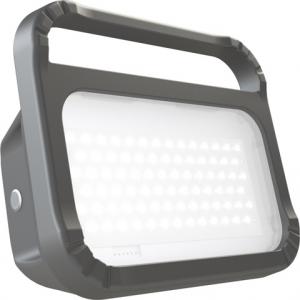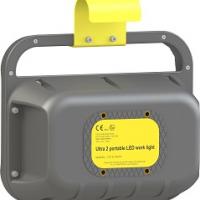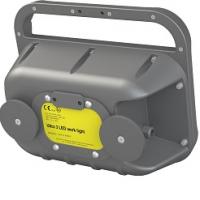 ULTRA 2
A full choice with 3 models with 2 hours, 4 hours or 8 hours operating time.
Finish the hassle. No need for power-supply, cables or a transformer. Quick access to hard-to-reach places in an ATEX environment. Designed to be easily used during cleaning, installation work, maintenance or inspection. Also, ready to use in case of emergency.
Incredible operating time of 8 hours at 3200 lumen! With a battery with over 50Ah as much batterypower as in many family cars! 
The batteries are maintenance free and have a 4 year guarantee.
Design is made with flat surface on front, making the lamp easy to stack
Key Features
• 3200 lumen at eight hours.
• Only 5.5kg.
• One switch, one mode: 100% power
• Handy to use, accesories
• Comfortable soft polypropylene housing
• Rounded edges protecting surrounding products
• Quick deployability
• No tripping over cables, no transformers needed
• Eye-friendly lightfilter
• Accessories
• Certification, protection mode "intrinsic" ib: no emergency if housing sealing is reduced
• Certified IIC and certified for ambient temperature up to 45°C
• Maintenance free sealed batteries 
• Replaceable batteries with 4 years guarantee
•Environment friendly: built from non toxic and recyclable quality plastics
• Battery guarantee 4 years
• RoHS and REACH compliant.
Specifications
Watts
25W
Lamps
LED
Lumen
3200 | 5000°K
Operating time
2, 4 or 8 Hours
Chargetime
9 h.
Battery
Lithium Polymeer (LiPo)., 51,2 Ah. Sealed. 4 years guarantee
Dimensions
388 x 319 x 147 mm
Weight
4.5 to 5kg
Zones
1, 2, 21 and 22
Certificate gas
Ex II 2G Ex ib IIC T4 Gb
Certificate dust
Ex II 2D Ex ib IIIC T135°C Db
Options
Tripod
Protective film
Magnets
Scaffolding hook
Support frame