Loop or Field Indicators are essential to control and monitor normalized or field signals to provide immediate data in both hazardous and safe area.
Such indicators measure, analyze and calculate analogical signals. They can also loop power two-wires sensors.
Their Input channels allow the measuring of current, voltage, RTD (Resistance Temperature Detectors), TC (ThermoCouples) and provide also for alarms and digital interfaces. Limit values can be monitored to trigger relays or OC transistors. Analog outputs can also transmit process signals.
Indicators have different characteristics and specifications. The majority of them are in-field configurable but some versions can be programmed through PC. Most of the times indicators are loop powered devices that process 4-20 mA signals. Enclosures can be of different materials (polycarbonate, aluminum or stainless steel) to allow for installation in the harshest conditions. LED or LCD displays make it easy to monitor different signals thanks to analog and digital outputs. Using proper measure converters, indicators can transform the measures from the field in standard signals. Remote monitoring and configuration are possible thanks to various technologies such as ModBUS, HART and Foundation Fieldbus.
The correct installation 
Typically, digital indicators are designed to be non-incendive (Ex-nA) meaning that they cannot represent an ignition source while active in precise circumstances.
In typical installations, digital loop indicators are integrated as passive elements, with or without external power, directly in the 4-20 mA current loop.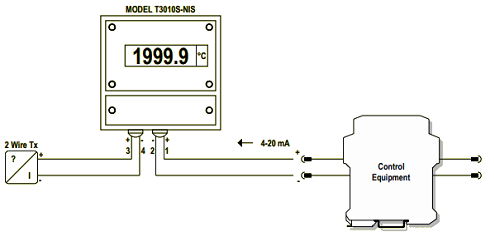 Example of installation using T3010S-NIS from G.M. International