1700-Sa – Safe Area op-is Media Converter
The latest addition to HMI-Elements range of Safe Area HMI Accessories
Light weight at only 4.4lb and with a depth of only 9.1" it brings elegance to the Safe Area
Two 'Ex op is' fibre ports – inherently safe to IEC 60079-28:2015
The 1700-Sa is intended for use in Safe Areas. The two fibre-optic ports are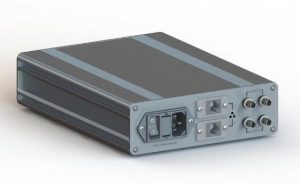 designated 'Ex op is' – meaning the transmitted optical power is deemed inherently safe according to IEC 60079-28:2015.
Therefore the fibre cables can pass into Zone 2 and Zone 1 areas and connect to suitably approved and compatible link-partners such as HMIs.
The 1700-Sa functions as an un-managed Ethernet switch with both fibre and copper ports inter-connected internally. No configuration is necessary.
1700-Sa :
PRODUCT TYPE
Safe-Area op-is Media Converter
MODEL NO
1700-Sa
TYPICAL EX CODE
II (2) G [Ex op is] IIC Gb
II (2) G [Ex op is] IIC Gb
Class I, Zone 1 [Ex ib] IIC Gb
Class I, Zone 1 [AEx op is] IIC
POWER
AC: 100 to 240VAC, 50 to 60 Hz, via standard IEC C14 socket. (UK and US leads supplied)
COPPER ETHERNET PORTS
LAN1 and LAN2 ports:
10/100/1000 Auto-negotiation
Full/half-duplex Auto-detectConnections:
Two RJ45 sockets, Gigabit Ethernet compliantStandards:
IEEE 802.3 10BaseT
IEEE 802.3u 100BaseTX
IEEE 802.3ab 1000BaseT
IEEE 802.3x Flow ControlTransmission Media:
10BaseT Cat.3,4,5 UTP/STP
100BaseTX Cat.5 UTP/STP
1000BaseT Cat.5E UTP/STP
FIBER PORTS
Standard:
IEEE 802.3u Fast EthernetFibre Type:
Multimode / Dual Fibre (for optimal link budget 62.5/125 micron fibre is recommended)Connections:
Two twin ST (IEC 61754-2)socketsWavelength:
1310nmLink Budget:
11dB
OPERATING TEMPERATURE
0°C to +40°C (32°F to +104°F)
STORAGE TEMP
0°C to +60°C (32°F to +140°F)
HUMIDITY
10 to 90 % non-condensing
WEIGHT
4.4Ibs / 2kg
DIMENSIONS
170(W) x 54(H) x 230(D)mm; 6.7 x 2.1 x 9.1 inches
MOUNTING OPTIONS
Desktop mounting with rubber feet on base