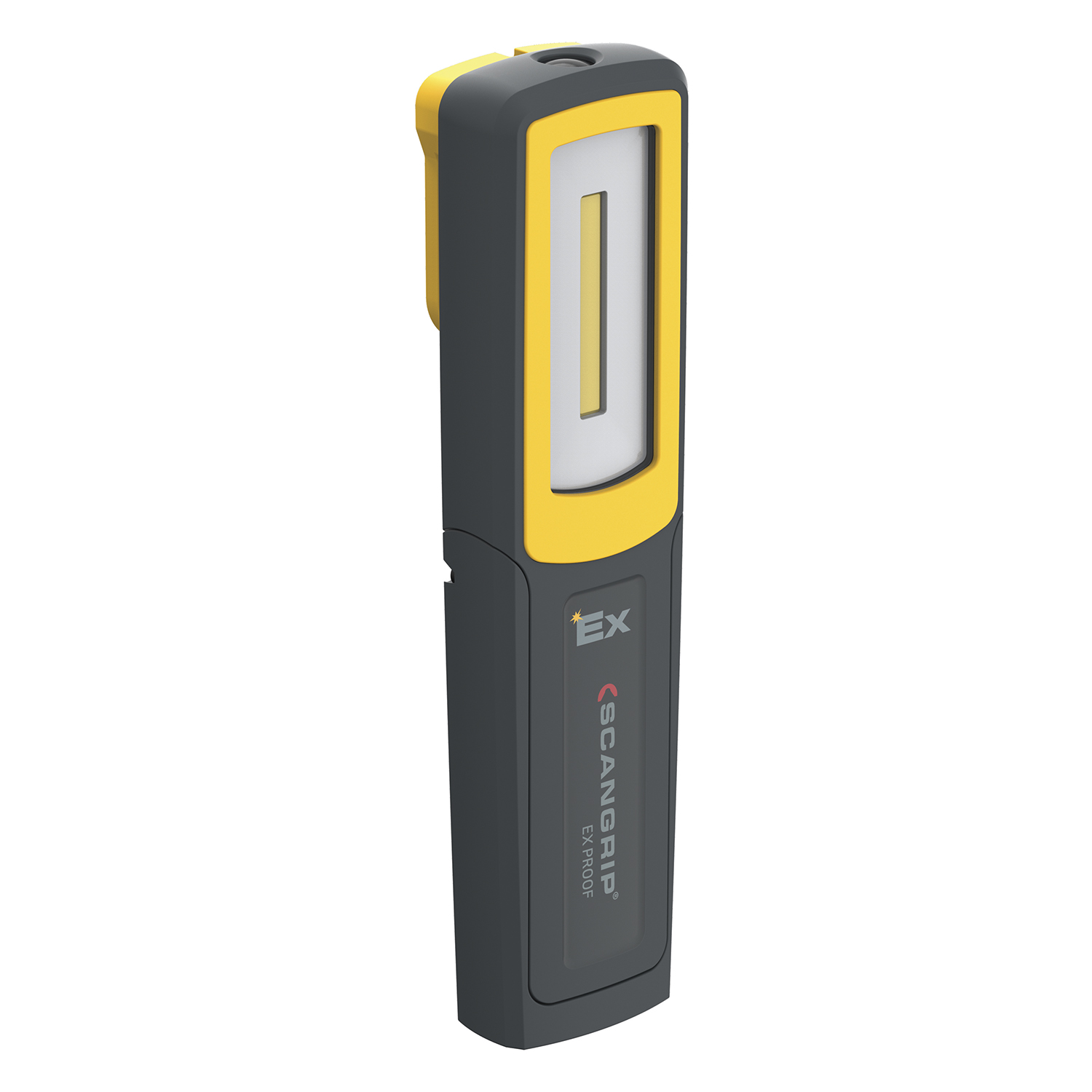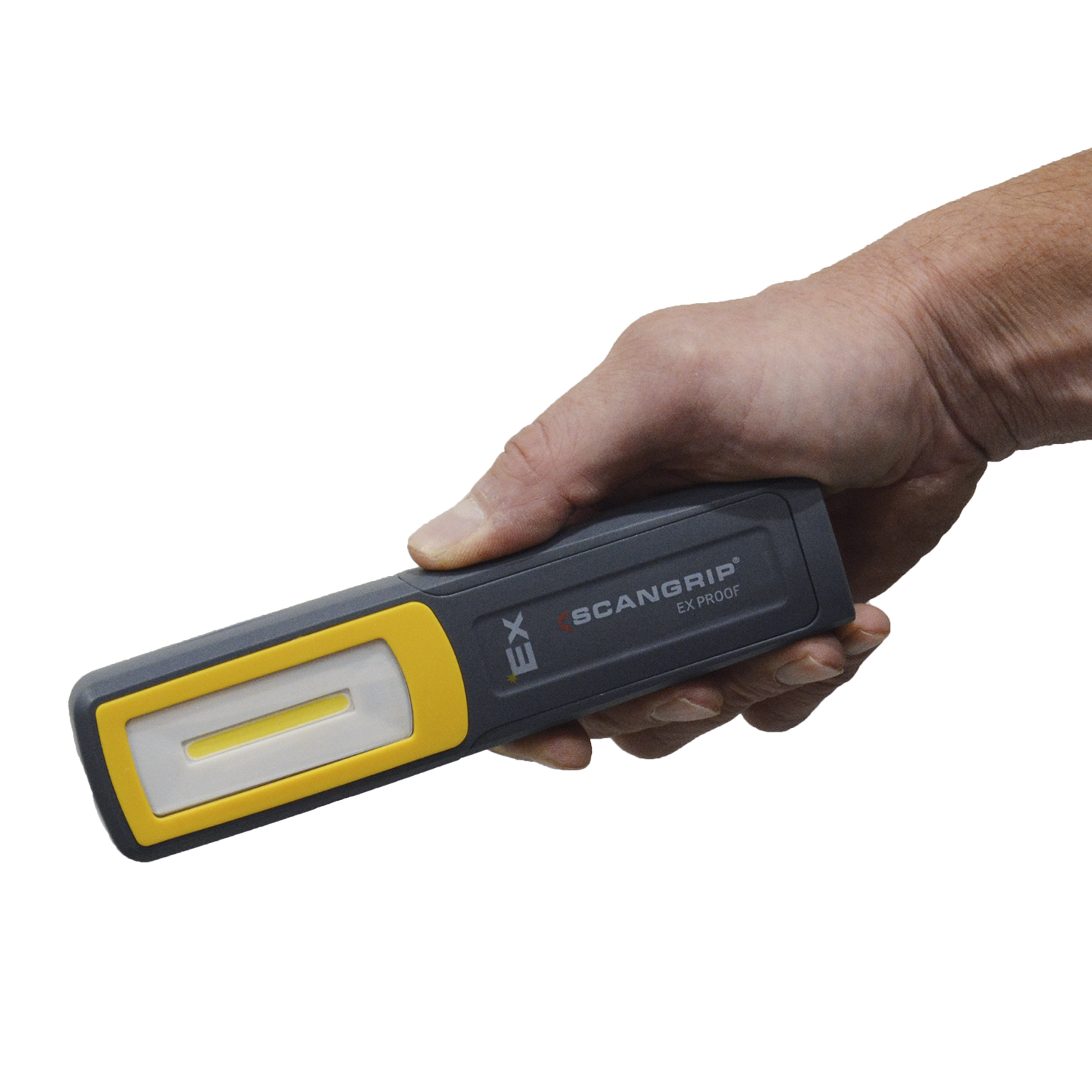 MIDI-Ex Work Light
MIDI-EX is a very handy, rechargeable COB LED work light for the professional user.
The COB LED light provides a unique powerful and completely uniform illumination
which is ideal for working light.
The extremely durable MIDI-EX lamp features a sturdy surface and the shape of the lamp provides a comfortable, ergonomic grip.
Place the lamp everywhere you want during inspection work with the turnable sturdy hook or the strong built-in magnet in the bottom to have both hands free for working. The flexible lamp head tilts up to 180 degrees.
It is designed to carry in the pocket or in the work belt by the built-in belt clip. In this way, you always have the work light close at hand when you need efficient and bright
illumination for a job.
MIDI-EX is supplied with both mainlight and toplight. The main light offers two-step operating options depending on the type and duration of the work carried out: Step 1 = 50 %, step 2 = 100 % light output.
Key Features
ATEX Zone 2 / 22 Certified
Rechargeable and compact COB LED work light designed for professional users.
Provides powerful and uniform illumination, perfect for various work tasks.
Sturdy and durable design with an ergonomic grip for comfortable handling.
Versatile placement options: hang with the turnable hook or attach using the built-in magnet.
Flexible lamp head tilts up to 180 degrees for adjustable lighting angles.
Convenient portability with a built-in belt clip, ensuring easy access for efficient illumination during tasks.
| | |
| --- | --- |
| Product Number | 03.5611 |
| EAN number | 5708997004975 |
| Product types | Hand Lamp |
| Net Weight (kg) | 0.18 |
| Length (mm) | 181.80 |
| Width (mm) | 46.00 |
| Height (mm) | 29.00 |
| Packaging | |
| In the box | Lamp, charger, usb cable, manual |
| Gross weight, packaging (kg) | 0.22 |
| Length, packaging (mm) | 188.00 |
| Width, packaging (mm) | 95.00 |
| Height, packaging (mm) | 50.00 |
| | |
| --- | --- |
| Luminous Flux, Max (Lumen) | 200 |
| Luminous Flux, Min (Lumen) | 100 |
| Illuminance, Max (Lux@0,5m) | 280 |
| Illuminance, Min (Lux@0,5m) | 140 |
| Illuminance Distance (Meter) | 0.50 |
| Light Source | COB LED |
| CCT (Kelvin) | 6000 |
| CRI | Ra > 80 |
| Adjustable Light Output | 2 steps |
| Beam Angle Main | 105° |
| | |
| --- | --- |
| Luminous Flux, Max (Lumen) | 100 |
| Luminous Flux, Min (Lumen) | 0 |
| Illuminance, Max (Lux) | 600 |
| Illuminance, Min (Lux) | 0 |
| Beam Angle (°) | 60 |
| CRI | Ra >80 |
| CCT | 6500 |
| Light Source Secondary | SMD LED |
| Illuminance Distance (Meter) | 0.50 |
| | |
| --- | --- |
| Power source | Rechargeable Battery |
| Battery type | Li-ion |
| Battery capacity (mAh) | 1600 |
| Battery voltage (V) | 3.80 |
| Cable | 1 m USB to mini DC |
| Charging voltage DC (V) | 5.00 |
| Charging input voltage (V) | 100-240V AC / 50-60Hz |
| Plug type | Type G (UK plug) |
| Max Power Consumption (W) | 3.00 |
| Charger included | Yes |
| | |
| --- | --- |
| Operating time with min. lumen (hours) | 5.00 |
| Charging time (hours) | 3.50 |
| Ingress protection | IP65 |
| Operating temperature | -10 °C to +45 °C |
| EX Zones | 2 and 22 |
| Impact resistance (meter) | 1.00 |
| Operating time with max. lumen (hours) | 2.50 |