F110-Ex
ATEX Zone 2 Certified Windows Tablet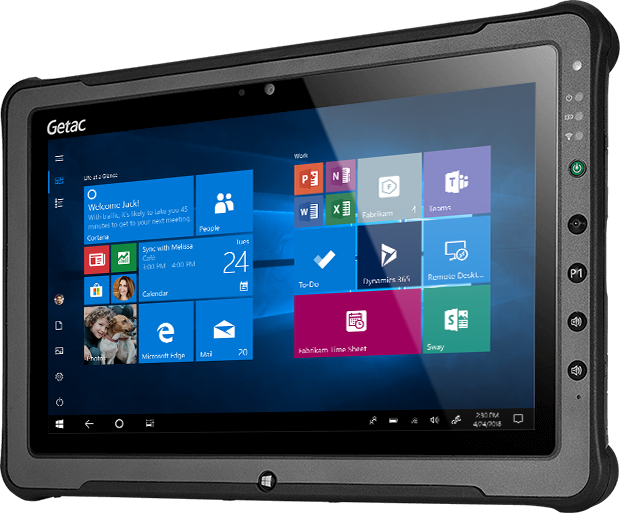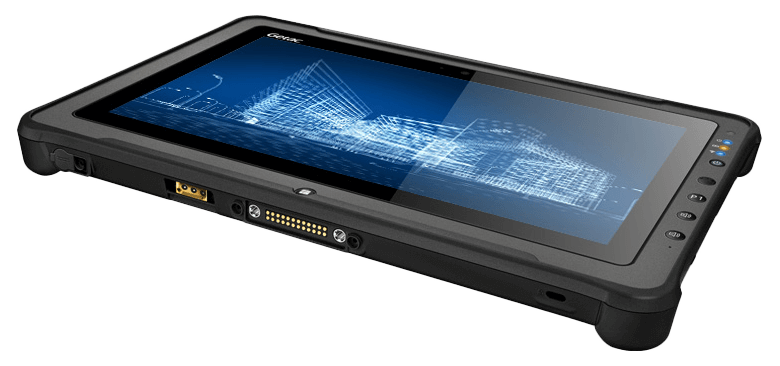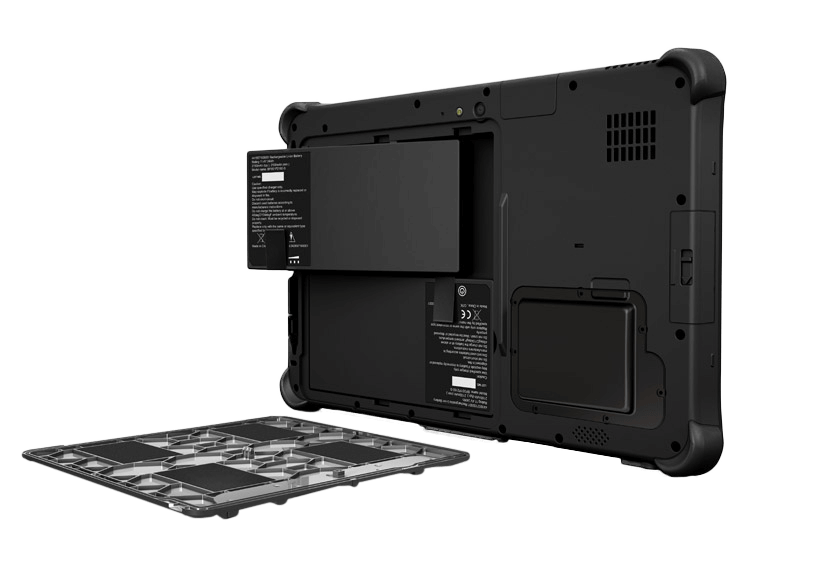 F110-Ex
The award-winning F110 is a true revolution in rugged tablet computing. The F110 combines best-in-class performance, industry-leading security, a large 11.6" widescreen display and a thin and light design that redefines rugged mobility.
Designed to be about the size of a typical piece of paper, the new F110 rugged tablet breaks new ground with its large 11.6″ display, 8th Generation Intel® Core™ processor, amazing graphics and dual batteries.
The F110 takes advantage of our revolutionary LumiBond 2.0 touchscreen technology, which bonds the display glass with the touch panel and LCD, creating a single pane that is more durable and readable. It features four advanced touch modes (Touch/Rain, Glove or Pen mode, plus an optional Digitizer mode), and the included hard-tip stylus enables you to capture signatures and take more precise notes on drawings, maps, or forms.
Most rugged tablets choose either a large display or a compact design. We chose both. With a large 11.6" widescreen display, the F110 is just the right size, providing plenty of real estate to run Windows and your apps on.
One of the best features of the F110 is one of the simplest. Instead of one single removable battery, we built the F110 to have two hot-swappable batteries for potentially infinite battery life. This allows you to remove one of the two rechargeable batteries and replace it with a fresh battery without ever shutting down.
Generation

G6

Operating System

Windows 10 Pro i
Windows 11 Pro

Mobile Computing Platform Options

Intel® Core™ i5-1135G7 Processor
Max. 4.2GHz with Intel® Turbo Boost Technology
– 8MB Intel® Smart Cache

Platform Options:
Intel® Core™ i5-1145G7 vPro® Processor
Max. 4.4GHz with Intel® Turbo Boost Technology
– 8MB Intel® Smart Cache

Intel® Core™ i7-1165G7 Processor
Max. 4.7GHz with Intel® Turbo Boost Technology
– 12MB Intel® Smart Cache

Intel® Core™ i7-1185G7 vPro® Processor
Max. 4.8GHz with Intel® Turbo Boost Technology
– 12MB Intel® Smart Cache

VGA Controller

Intel® UHD Graphics

Display

11.6″ Wide Viewing Angle TFT LCD FHD (1920 x 1080)
1,000 nits LumiBond® display with Getac sunlight readable technology

Storage & Memory

8GB DDR4
Optional: 16GB / 32GB DDR4

256GB PCIe NVMe SSD
Optional: 512GB / 1TB / 2TB PCIe NVMe SSD

Keyboard

Power button
4 tablet programmable buttons

Pointing Device

Touchscreen
Dual mode touchscreen (multi-touch and digitizer)

Expansion Slots

Optional: Smart card reader
Optional: 1D/2D imager barcode reader, or USB 2.0 port, or LAN (RJ45), or serial port + LAN (RJ45) ii
Optional iii: HF RFID Reader, or Fingerprint Reader

I/O Interface

FHD webcam x 1 iv
8M pixels auto focus rear camera x 1
Audio in/out combo x 1
DC in Jack x 1
USB 3.2 Gen 2 Type-A x 1
Thunderbolt™ 4 Type-C x 1
Optional: SIM card slot x 1 (Micro-SIM, 3FF) xi
Optional: Windows Hello face-authentication camera (front-facing) x 1 iv

Communication Interface

Intel® Wi-Fi 6 AX201, 802.11ax
Bluetooth (v5.2) v
Optional: Dedicated GPS
Optional: 4G LTE mobile broadband with integrated GPS xi
Optional: 10/100/1000 base-T Ethernet ii (Occupies expansion slot)
Optional: 5G Sub-6 with integrated L1/L5 GPS x

Security Features

TPM 2.0
Kensington lock
Optional: Intel® vPro® Technology
Optional: HF RFID Reader iii, or Smart Card Reader
Optional: Windows Hello face-authentication camera (front-facing) x 1 iv

Power

AC Adapter(90W, 100-240VAC, 50/60Hz)
Li-ion battery(11.4V,typical 2680mAh;min. 2640mAh) x 2
Optional: High capacity Li-ion battery (11.1V, typical 4200mAh; min.4080mAh) x 2

Dimension (W x D x H) & Weight

314 x 224 x 25mm (12.4″ x 8.82″ x 0.98″)
1.58kg (3.48lbs) vi

Rugged Features

MIL-STD-810H certified
IP66 certified
Vibration & 4ft (1.2m) drop resistant
ATEX & IECEx certified

Environmental Specifications

Temperature vii:
– Operating: -21°C to 60°C / -6°F to 140°F
– Storage: -51°C to 71°C / -60°F to 160°F
Humidity:
– 95% RH, non-condensing

Explosion Protection

ATEX/IECEx Zone 2/22
Ex II 3G Ex ic op is IIC T4 Gc
Ex II 3D Ex ic op is IIIC T130°C Dc

Pre-installed software

Getac Utility
Getac Camera
Getac Geolocation
Getac Barcode Manager viii
Getac Driving Safety Utility (trial version)
Getac KeyWedge Barcode Reader Utility (trial version)
Optional: Absolute Persistence®

Optional software

Getac Driving Safety Utility
Getac KeyWedge Barcode Reader Utility
Getac Device Monitoring System (GDMS)
Getac VGPS Utility ix

Accessories

Battery (11.4V, typical 2680mAh; min. 2640mAh)
AC adapter (90W, 100-240VAC, 50 / 60Hz)
Digitizer pen

Optional:
Carry bag
Battery (11.4V, typical 2680mAh; min. 2640mAh)
High capacity Li-ion battery (11.1V, typical 4200mAh; min.4080mAh)
Multi-Bay charger (Dual-Bay)
Multi-Bay charger (Eight-Bay)
AC adapter (90W, 100-240VAC, 50 / 60Hz)
Digitizer pen
Protection film
Hard handle
Hand strap
Shoulder strap (2-point)
Shoulder harness (4-point; handsfree)

Bumper-to-Bumper warranty

Accidents can take your equipment out of service when you least expect it, especially in a rugged environment, which can cause costly equipment downtime.
That is why Getac has introduced accidental damage as standard under our Bumper-to-Bumper warranty, to help minimize your enterprise IT costs.
Bumper-to-Bumper is your hassle-free guarantee. That means you can depend on us to have your unit back in service within days.

Standard
3 years Bumper-to-Bumper