470-Z1 – NEW
Packing a 12" high resolution, multi-touch screen, a full workstation with flexible I/O is a solution that just works and is ideal for permanent or daily rig up/down applications.
That's why our new sleek 470-Z1 delivers high specification in an easy-lift 33lbs/15kg. A precision-machined aluminum enclosure provides durability and low weight. A stunning high-bright, high resolution display delivers pin-sharp graphics. And a new Intel processor provides powerfully accelerated performance.
Just like its predecessor, the 450-Z1, the 470-Z1 is an HMI that shrugs off the worst that nature can throw at it and keeps on going. Small enough to fit, tough enough to survive and smart enough to perform: this is today's Zone 1 HMI.
Features: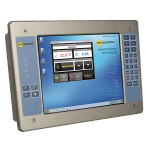 Intel embedded ATOM dual core N2800, 1.86GHz processor
4GB DDR3 SDRAM
High brightness 600 nit, 12.1" LCD panel with LED backlight display
1024 x 768 resolution
Backlight dimming via membrane keypad
Projected Capacitive Touchscreen (PCT) with four or more touch points
64Gb mSATA Solid State Drive
Membrane keypads to both sides of the screen
Keys include power on/off, touch screen disable, brightness, and function keys
All user ports protected against voltage surges and electrostatic discharge
2.4 GHz Wi-Fi connectivity
Bluetooth V2 connectivity
Diagnostic information including temperature, voltages, vibration, on-time accessible via Windows software
Diagnostic LED indication
90-250VAC power supply
Internal USB port for safe-area use
10/100/1000Gb Base-T Ethernet port (optional)
External USB type 2.0 port, via ROTA DR4 connector (optional)
Fibre-optic port, via Omnitron media converter (optional)
Intrinsically safe ethernet via IS993 Isolator (optional)
PS/2 keyboard and mouse port (optional)
RS232 via gland (optional)
470-Z1 :

PRODUCT TYPE
PC Workstation / Driller's Display Unit (DDU)
MODEL NO
470-Z1
TYPICAL EX CODE
II (2) GD Ex e mb ib [ib] IIC T4 Gb (Gb)
Ex tb IIIB T135°C Dc IP66
Class I, Zone 1, AEx e mb ib [ib] IIC T4 Gb (Gb)
Zone 21 Ex tb IIIB T135°C Db IP66
DISPLAY SIZE
12.1″ LCD panel with LED backlight display
DISPLAY TYPE
Projected Capacitive Technology (PCT) – Multi Touch, Glove Friendly
RESOLUTION
1024 x 768
PROCESSOR
Dual Core Atom 1.86GHz
OPERATING SYSTEM
Windows 7 Professional 32-bit
STORAGE
64GB mSATA SSD
MEMORY
4GB DDR3 SDRAM
ETHERNET OPTIONS
(optional) Copper Ethernet port 10/100/1000 Mbits/s Base-T
(optional) Fibre Optic port via Omnitron media converter
WI-FI / BLUETOOTH
2.4 GHz Wi-Fi (802.11 b/g/n)
Bluetooth V2
KEYBOARD / MOUSE
(optional) Intrinsically Safe PS/2 Interface
USB
Internal USB port for Safe area
(optional) External USB type 2.0 port via ROTA DR4 connector
INGRESS PROTECTION
IP66 / NEMA4X
OPERATING TEMPERATURE
-40°C to +60°C (-40°F to +140°F)
STORAGE TEMP
-40°C to +80°C (-40°F to +176°F)
HUMIDITY
10 to 90 % non-condensing, operating
0 to 100 % non-operating
WEIGHT
< 33Ibs / 15kg
DIMENSIONS
385(W) x 260 (H) x 116(D)mm; 15.2 x 10.2 x 4.6 inches
SHOCK & VIBRATION
Shock: In accordance with BS EN60068-2-27:2009
Vibration: In accordance with BS. EN60068-2-6:2008