SM1P02-Ex DP
ATEX Zone 1 Certified Headset with Double Protection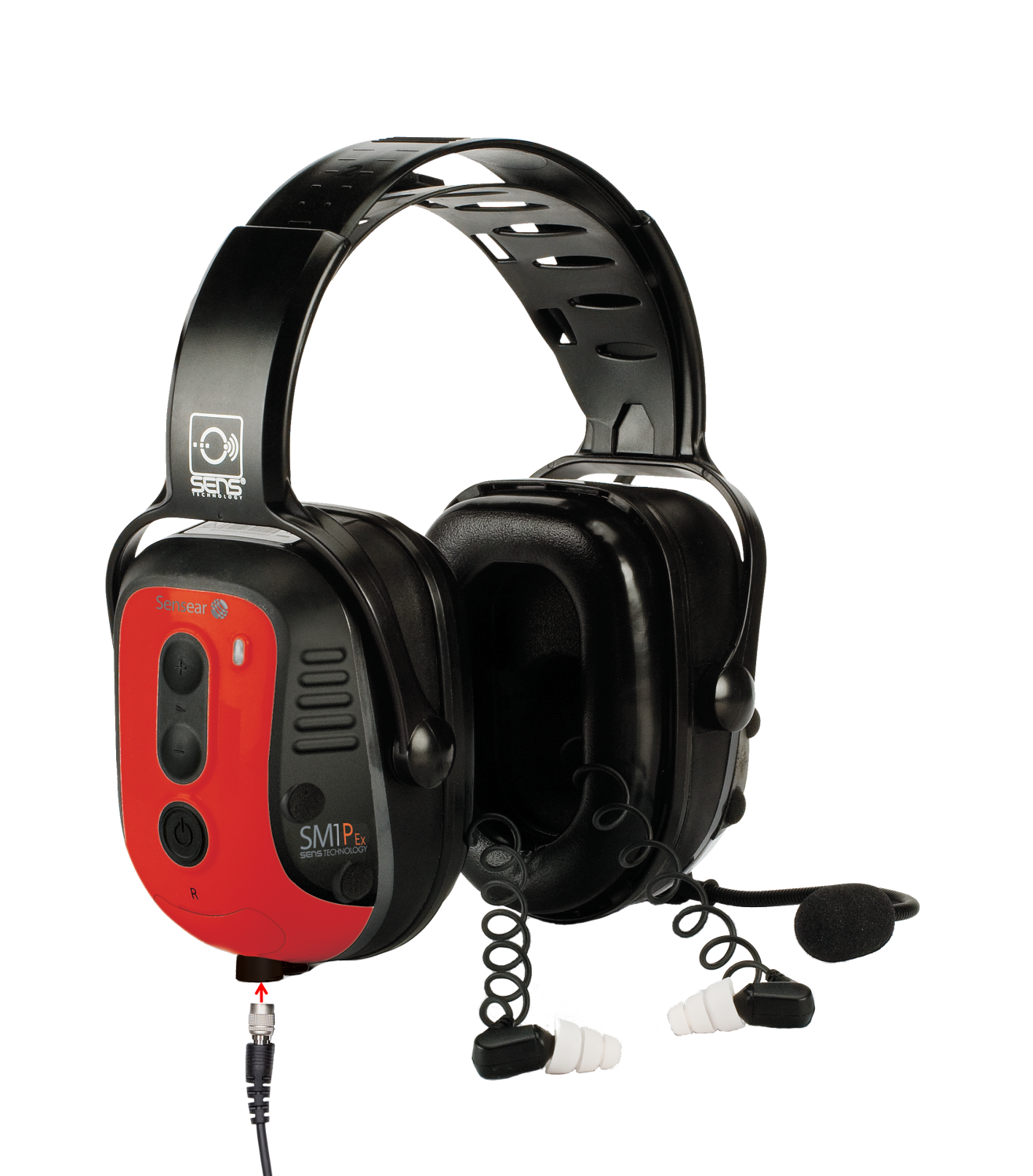 Sensear SM1P02-Ex DP
Dual protection is often a requirement in many critical working areas where exposures may exceed 95 decibels (dBA), Sensear has integrated our SENS® communication capabilities into an intrinsically safe dual hearing protection headset (ISDP) so users can effectively communicate without removing their hearing protection in these extremely high noise conditions.
Based on the existing SM1P02 IS headset, and incorporating our unique dual protection feature; the ISDP fills the marketplace need for a high performance intrinsically safe headset for extreme noise environments. The new cable connection at the ear cup allows you to use it as a wired headset along with Bluetooth and Short Range or unplug the cable and use it as a completely wireless headset via Bluetooth and Short Range.
Users of the ISDP will benefit from these communication capabilities and safety features.
Key Features
Connect to two-way radios via Bluetooth®

 

or removable wired connection
Short Range Headset-to-headset PTT communication
Limit 'in-ear' noise exposure to 82dB
Rugged and lightweight design
Up to 31dB NRR (noise reduction rating)
Built-in rechargeable battery (lithium-ion)
VOX capable
Noise-cancelling boom mic

The new cable connection at the ear cup allows you to use it as a wired headset along with Bluetooth and Short Range or unplug the cable and use it as a completely wireless headset via Bluetooth and Short Range
General
IP Rating
 IP54
Power

2250mAh

 

Lithium ion

 

Battery, 24 hours (wired connection) / 18 hours (wireless with Bluetooth/Short Range activated), 4 Hour Charge Time
Hearing Protection
Volume limiter
82 dB(A) [programmable] – only applicable when the headset is powered on
Double Hearing Protection

Earmuffs + E

arplugs

 
Region
Australia / NZ
USA / Canada
Europe
Standard
ANSI S3.19
ANSI S12.6

ANSI S12.6

Result
SLC80
NRR
SNR
HB
30-32 dB, Class 5
29-30 dB
37 dB
BTN
29-33 dB, Class 5
27-31 dB
36-38 dB
HM
28-30 dB, Class 5
26-29 dB
38-39 dB
Communication
SENS®

 

360o

 

Situational Awareness
95 dB(A)
Voice transmission

Boom microphone – noise cancelling, VOX capable

Face-to-face
Sens®

 

mode (< 95 dB)
Two-way radio

SM1P model – Bluetooth or radio cable with Push-To-Talk module; SM1PW model – Bluetooth only

Short range

Half-duplex communications, Up to 8 programmable FM channels, Up to 50 meters

Bluetooth
Bluetooth®

 

3.0, 15 meters (49 feet)
SMHA0000

Smart Muff Hygiene Kit

SMBMHK01

Smart Muff Boom Microphone Wind Sock

SMWS0001

Smart Muff Wind Protector Kit

SMAP0000

Smart Muff Absorbent Pads x5 Pair

SMBM0003

Smart Boom Microphone
(for IS Headsets only)

SRCK6170CR01

SM1P External PTT (IS Headsets only) – SM1P style with cable ONLY

MFP00062B

Replacement Earbuds only – for double protection headset

FETSM001 / FETMD010 / FETLG010


Foam tips – MSRP 10 pack – Small / Medium (most common size) / Large

PRGTAB01

Programming tablet

SMBB0000

Smart Muff HB Replacement

SMBE0000

Smart Muff BTN Replacement

SMMK0001

Smart Muff HM Replacement

SMHA0006

Smart Muff HM Adaptor

SMHA0001

Smart Muff HM Adaptor

SMHA0002

Smart Muff HM Adaptor

SMPW0001

SM/SP Universal Wall Charger