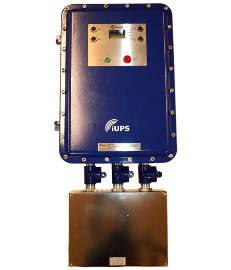 ATEX II 2 G Ex d[e] e IIB T5 Gb
IP Rating: iUPS101 IP66 – iBATT100 IP45
-20oC to 55oC depending on load
The iUPS101 Uninterruptible Power Supply system is certified for use in ATEX Zone 1 hazardous areas and provides back up 230VAC power for up to 35 minutes, at 3KVA full load at 20°C. Critical equipment, such as instrumentation and control systems, navigation or landing lighting, or blow out prevention systems, are protected in the event of a blackout or brownout.
The unit has a modular design which allows an additional battery pack to be integrated to double the backup time to a maximum of 70mins with a 3KVA load at 20°C.  This modular design also allows a complete additional iUPS101 unit to be attached to create a system which can support a maximum load of 6KVA for 70 minutes at 20°C ambient temperature.
Designed to be wall mounted, the iUPS101 UPS system is comprised of an aluminium alloy Ex'd' charger/inverter enclosure, a stainless steel Ex'e' terminal enclosure and a stainless steel iBATT100 Ex'e' battery enclosure containing maintenance-free valve regulated lead acid batteries.
Access to incoming/ outgoing cables is easy due to the Ex'e' enclosure being 'close coupled' to the Ex'd' enclosure via cable bushings thus alleviating the need to open the Ex'd' enclosure. The Ex'd' enclosure has a glass window that shows various alarm and status information on the system and comes complete with door mounted Ex'd' buttons to configure the ATEX UPS charging conditions and input/ output supplies.
Click here for Data Sheet
Zone 2 Uninterruptible Power Supply 
iUPS200

ATEX II 3 G Ex nA II T4 (-20oC≤Ta≤+55oC)
IP66
-20ºC to 55ºC
The iUPS 200 Zone 2 UPS Enclosure is certified for use in Zone 2 hazardous areas and provides back up power for up to 120 minutes, at 70W full load.
Critical equipment such as wireless network nodes or equipment used in people tracking and automatic mustering systems are protected in the event of a blackout or brownout.
The iUPS200 is designed to be either wall or pole mounted, is IP66 rated and made of 316L stainless steel making the rugged enclosure suitable for installation in potentially explosive, harsh, wet and corrosive environments.  
With its advanced battery charge controls, including built in temperature compensation feedback, the uninterruptible power supply system ensures the internal lead acid battery is receiving the correct charge. 
Other features available include UPS status indication via enclosure mounted lamps, power output disable via an enclosure mounted button, active logic outputs for connection to a DCS or other equipment plus the option of plug and socket cable entry instead of cable glands.
 Click here for Data Sheet