Solexy SWA/SWS A1*
ATEX Zone 1 Certified Access Point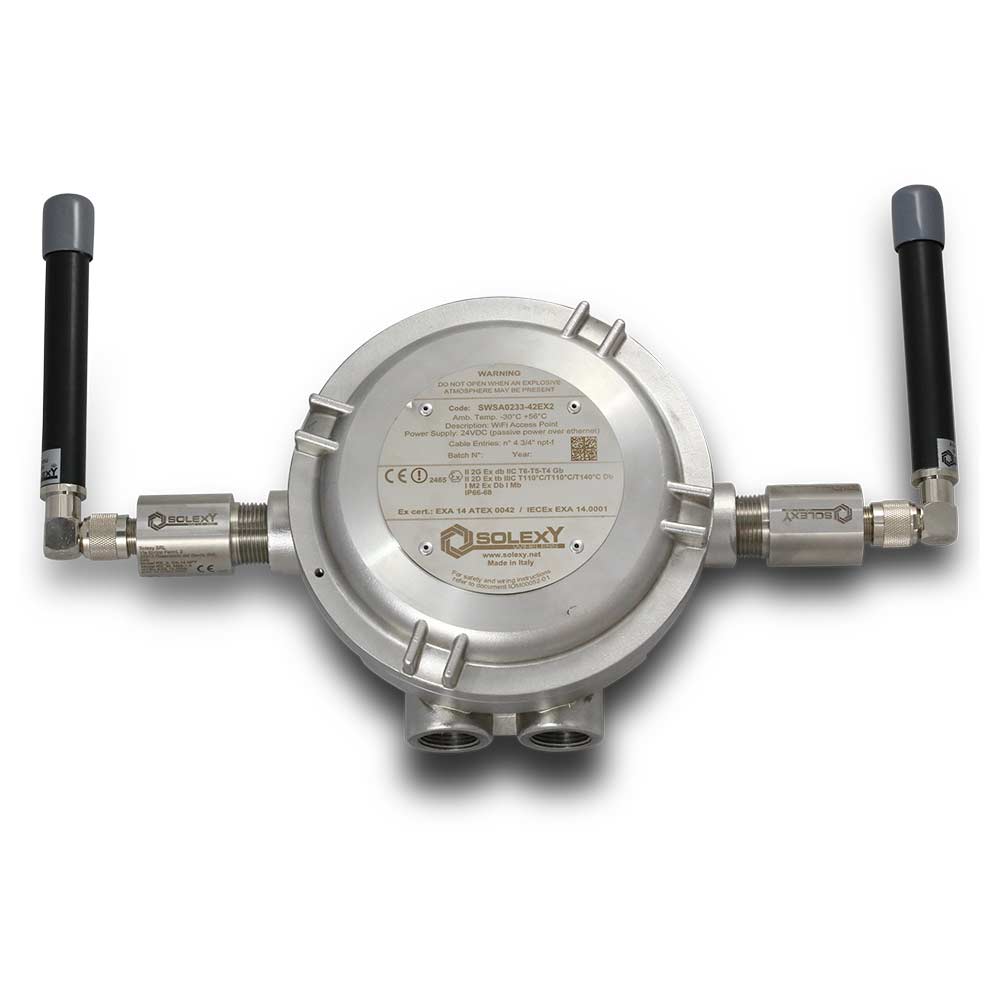 Solexy SWA/SWS A1*
The Solexy SWA/SWS A1* (SWA = Aluminium SWS = Stainless Steel) is the most compact industrial WiFi MIMO 2×2 access point rated for installation in Zone 1 rated hazardous locations and harsh environments.
It is completely configurable through its Ethernet or WiFi port via your internet browser or through a dedicated configuration software and offers routing, filtering and advanced security features including 802.11i (EAP authentication with Radius server/WPA/WPA2 Enterprise), tunnels with fully encrypted data, firewall, VLAN.
The SWA/SWS A1* features several operating functions: WiFi access point, client, repeater & MESH point modes. It is available with three different radio configurations all of them 2.4/5GHz: 802.11/n MIMO 2×2 (A10) or 802.11/ac MIMO 2×2 (A11) or in a unique dual radio configuration 802.11/n MIMO 2×2 (WiFi1) + 802.11/ac (WiFi2) that allows all the different operating modes to be active simultaneously (A12). For instance one radio is used to maintain the connectivity backbone and the other radio is used as local access point.
It can be powered using the same Ethernet cable used for data (POE or PPOE) or independently through dedicated terminals.
With Solexy's SWA and SWS enclosures and their rugged construction water proof IP66 and IP68 combined with Atex and IECEx certificates, Solexy offers a wireless device solution for installation in classified Ex areas (gas, dust and mining) and harsh environments, including temporary submersion.
Available accessories

Find out the compatible accessories for any Solexy radio solution