iWAP107
Universal Zone 1 Access Point Enclosure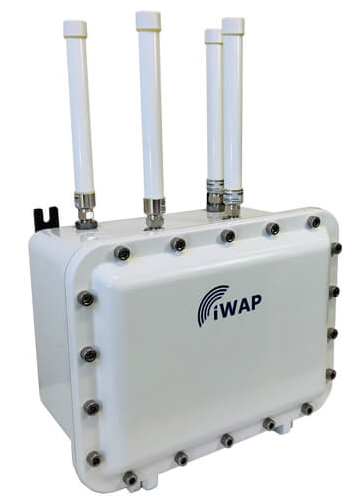 iWAP107
Not just an enclosure, but a fully certified system including our innovative iSOLATE intellectual property; the iWAP107 enables cost effective wireless networking in hazardous areas.
Designed to accommodate the wireless technology of your choice
Intrinsically safe RF outputs
Easy to install and maintain
ATEX & IECEx Zone 1 Approved
II 2(1) GD
Ex d [ia IIC Ga] IIB+H2 T5 Gb
Ex tb [ia Da] IIIC T100°C Db
US & Canada Class I Div 1 / Zone 1 approved
Choose the latest 802.11AC access points from market leaders like Cisco, Aruba, Siemens and more – make the most of their MIMO functionality for high performance Wi-Fi, even in metallic process environments.
You can also use other wireless devices, such as LTE routers and IoT gateways.
Wireless Technology
Maximize your wireless connectivity by opting for cutting-edge 802.11AC access points provided by industry leaders like Cisco, Aruba, Siemens, and others. Leverage their advanced MIMO features to ensure excellent Wi-Fi performance, even in challenging metallic process environments.
Additionally, you have the flexibility to explore various wireless technologies to meet your specific requirements. Consider options like UHF RFID readers, LTE routers, and IoT gateways, including LoRa, WiHART, or ISA100. These alternatives offer a diverse range of wireless solutions tailored to your needs.
Easy Installation
Enjoy a hassle-free installation and maintenance process that is both simple and efficient. With the iSOLATE501 RF isolator and iSOLATE-CT Connector Transits integrated into the system, you can use standard tools without the need for barrier glands to install antennas. What's more, the antennas can be connected and disconnected live, ensuring minimal downtime.
The iWAP107 is specifically designed to withstand the most hazardous conditions, offering exceptional ruggedness and IP66 ingress protection. However, we understand that equipment durability should not come at the expense of space or ease of installation. That's why the iWAP107 boasts a compact internal design, packing a multitude of functionality into a sleek 415 x 315 x 250mm form factor. Weighing around 30kg for an aluminium option, it can be effortlessly maneuvered during installation across various locations.
Intrinsically Safe Outputs
Benefit from the superior safety features of Extronics' iSOLATE technology, including intrinsically safe RF outputs and explosion-proof N-type antenna connections. This enables you to select from a diverse range of standard simple apparatus antennas. Experience enhanced reliability, cost-effectiveness, and improved coverage without the requirement for certification, while remaining fully compliant with all hazardous area equipment regulations.