ATEX LED Inspection Leadlamp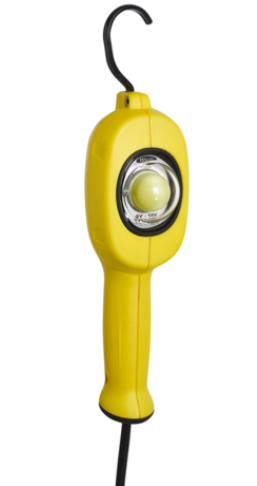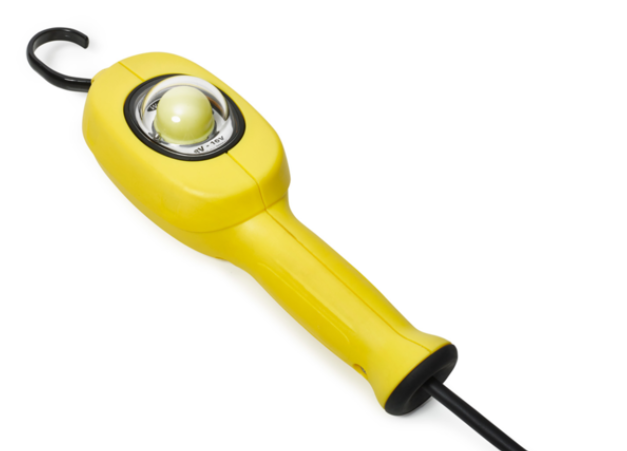 ATEX Inspection Lamp
The high power LED 'fitted for life' light source produces a forward facing high efficiency output of up to 470 lumens by emitting an exceptional, even, ultra-wide angle light; minimising shadows and enhancing visibility to provide optimum illumination for localised, close proximity work.
Lightweight, compact and ergonomically friendly, the Inspection Leadlamp is designed for handheld use, with an "easy-grip" handle for user comfort. With a flexible 360° swivel hook, the SP-600 can be suspended for hands-free use, and magnet mounting accessories are also available.
The unit is extremely robust and durable with impact resistant anti-static enclosure, IP67 rated, and scratch and chemical resistant polycarbonate hardcoat lens, to withstand the rigours of heavy industrial use. Further protection is possible by fitting a stainless steel cage guard for enhanced mechanical protection, or a protective sleeve to minimise residue build-up in very dirty or paint-filled atmospheres; both fully certified and ideal for use in the most demanding conditions.
The Leadlamp is available in three voltage input ranges: high 90-264VAC for general applications, and low 18-54VAC/20-54VDC and extra low 9-16VAC/DC for use in confined space applications, such as metal tanks.
Key Features
Models: SP-600EL/HOFR10, SP-600L/HOFR10, SP-600H/HOFR10
Gas Zone: 1 and 2
Dust Zone: 21 and 22
Power: Lead
Light: LED
Product Reference
SP-600H
SP-600L
SP-600EL
Product Description
ATEX LED Inspection Leadlamp
High (H)
Low (L)
Extra Low (EL)
Code

I M2 Ex eb mb I Mb (-30°C to +55°C)
II 2G Ex eb mb IIC T4 Gb IP67
II 2D Ex mb tb IIIC T95°C Db

Type of Protection
'eb' Increased Safety, 'mb' Encapsulation,
'tb' Dust Ignition Protection by Enclosure
Area of Classification (Gas)
Zones 1 & 2
Gas Groups IIA, IIB & IIC
Temperature Classification (Gas)
T4
Area of Classification (Dust)
Zones 21 & 22
Dust Groups IIIA, IIIB & IIIC
Max Surface Temperature (Dust)
T95°C
Ambient Temperature
-30°C to +55°C
Certificate
SIRA15ATEX3317X
IECEx SIR15.0115X
Enclosure
High Impact, Anti-Static Polypropylene
Lens
Polycarbonate, Scratch and Chemical Resistant Hardcoat
Light Source
Type
High Power LED
Output
470 lumens (at source) / 403 lumens (from leadlamp)
Life
60,000 hrs
Power Source
Voltage
90-264VAC
18-54VAC
20-54VDC
9-16VAC/DC
Plug
No plug supplied as standard
Cable
10m HOFR 2 core x 1.5 mm² 
Weight
1.785 kg 
Ingress Protection
IP67