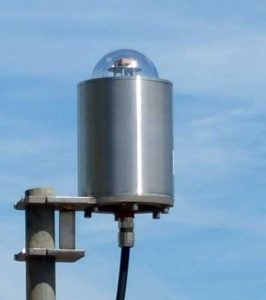 A small, but high performance ruggedised instrument aimed specifically at monitoring environmental and behavioural conditions on valuable remote assets, for example Riser and CALM buoys and vessels at sea.
EyetronicEx® can be configured with a range of 'options' with various functions and sensors – including (but not limited to) a sensitive GNSS** antenna, GNSS receiver, 3-axis motion measurement, vibration and shock monitoring, heading and direction recording, local temperature and hot-spot readings, light levels, and data logging.
Available as ATEX Ex Zone 1 IIC gases for the oil & gas industry.
EyetronicM® has the same capabilities, but is aimed at marine, and similar environments.
EyetronicR® is for land-based applications (rail and transport).