1301-Z1, a slim-line ATEX, IECEx, AEx Zone 1 HMI
Certified to ATEX, IECEx, AEx (NEC505) Section 18 CSA 22,2 EAC
Weighing in at 21.5kg/47.3lbs and with a depth of 150mm / 5″
Intel core i7 processor
Fully operational within a -40°C to +60°C (-40°F to +140°F) temperature range
High bright 1000 nit display in the lightest of enclosures
The latest addition to HMI Elements's range of hazardous area HMIs is a slim and lightweight PC, with a super high-bright 19", 1000 nit multi-touch glove-friendly touchscreen. As you would expect from HMI Elements it comes certified for use in Class I Zone 2 areas with Ethernet and WiFi as standard and a choice of operating voltages.
Features:
Glove-friendly Projective Capacitive Touchscreen (PCT) with multi-touch
19″ 1000 nit display
Wide -40°C to +60°C (-40°F to +140°F) operating temperature range as standard
Thin: 5″ profile. Lightweight: 21.5kg / 47.3lbs
VESA, yoke and panel mount options
Remote telemetry
Built-in diagnostics
Clean screen mode
Ethernet 10/100/1000 Mbit/s and Wi-Fi as standard
Ingress protected to IP66/NEMA 4X
Shock in accordance with BS EN60068-2-27:2009
Vibration in accordance with BS EN60068-2-6:2008
Windows 10 Enterprise LTSB, Windows 7 Professional Operating System
Designed for field maintainability
1301-Z1 :
i7
PRODUCT TYPE
PC Workstation
MODEL NO
1301-Z1
TYPICAL EX CODE
II (2) GD Ex e d mb ib [ib] IIC T4 Gb(Gb)
Ex tb IIIB T135°C Dc IP66
Class1, Zone 1, AEx e d mb ib [ib] IIC T4 Gb (Gb)
Zone 21 Ex tb IIIB T135°C Db IP66
DISPLAY SIZE
19″
DISPLAY TYPE
Sunlight readable high brightness panel
IR filtering and anti-glare coating.
RESOLUTION
SXGA; 1280 x 1024, wide viewing angle,  24 bit colour
PROCESSOR OPTIONS
Core i7 6th/7th Generation
MEMORY OPTIONS
16GB DDR / 32GB DDR4
OPERATING SYSTEM
Windows 10 Enterprise LTSB, Windows 7 Professional 64 bit
INGRESS PROTECTION
IP66 / NEMA4 and NEMA 4X
OPERATING TEMPERATURE
-40°C to +60°C
STORAGE TEMP
-40°C to +85°C (-40°F to +185°F)
WEIGHT
47.3Ibs / 21.5kg
MAX DIMENSIONS
16.9″ x 16.1″ x 5.9″ / 430mm x 410mm x 150mm
MOUNTING OPTIONS
VESA, Yoke, Panel
COMMUNICATION OPTIONS
Wi-Fi connectivity
Bluetooth connectivity
Fibre optic connectivity
Remote interrogation of on-board diagnostics
Built-in Camera1301-Z1 Data Sheet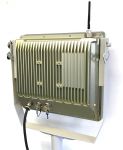 800-Z1 & 900-Z1
The HMI-Elements range of industrial PCs for use in the hazardous area consists of the 800Z1 & 900-Z1 with their Pentium M processors. With no requirement for purging, all HMI-Elements computer models are ATEX certified for use as HMIs in Zones 1 and 2.
Features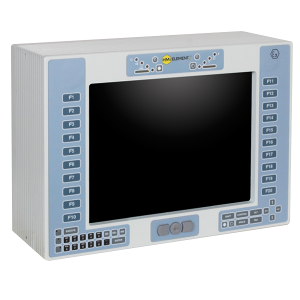 Glove friendly optional touch screen (800 & 900)

Integrated keyboard/mouse and/or external keyboard

High bright and transflective screen options (800 & 900)

Simple to install

Will run with any PC operating system (450 CE only)

Configurable with fibre optic, Cat5, and/or WiFi

800 & 900 work to -20°C as standard

Available with a range of mount and stand configurations Ex d – ease of field maintenance (with appropriate training)

Customisable bulkhead connection configuration

Optional bulkhead mounted Ex junction boxes

Wide range of interface and keyboard options available
PC WORKSTATIONS:

800-Z1

900-Z1

TYPICAL EX CODE
II 2 G Ex d ib [ib] IIB Gb T4
DISPLAY SIZE
15″
19″
DISPLAY TYPE
LCD
RESOLUTION
XGA 1024×768
SXGA 1280×1024
PROCESSOR
Intel 5th Generation (Broadwell) Core™ i7 5650U 2.2GHz COM Express form factor SBC
HDD / SSD / FLASH
Rugged 80GB, Rugged 100GB, 64GB SSD, 128GB SSD, 64 GB Flash
RAM
8GB DDR3l
ONBOARD TPM
Fully compliant to the Trusted Computer Group (TCG) Trusted Platform Module (TPM) Version 1.2 specification
OPERATING SYSTEM
Windows 10 Enterprise LTSB or Windows 7 Professional
COMMS OPTIONS
WiFi  /  Ethernet (10/100 Mbits/s)  /  Fibre Optic
KEYBOARD / MOUSE / OTHER
Integrated membrane mouse. Integrated keypads. External Exi PS/2 interface
OPERATING TEMP
-20°C to +50°C (-4°F to +122°F)
STORAGE TEMP
-25°C to +55°C (-13°F to +131°F)
WEIGHT
32kg / 68lbs
44kg / 88lbs
DIMENSIONS
465 x 337 x 160 mm
521 x 390 x 165 mm
OPTIONAL EXTRAS
Optional Rota DE2 USB connection system and/or Smart-Ex ATEX keyboard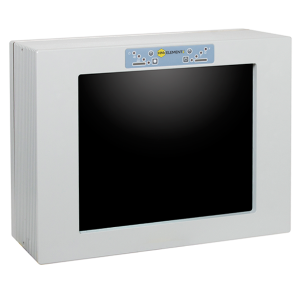 Zone 1 PC Workstations Brochure