Beka Loop Powered Digital Indicators for Process Control
Provide Process Information from 4-20mA signals in Hazardous Areas & Extreme Environments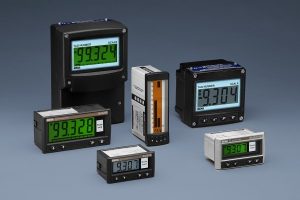 Large, non-multiplexed digital displays
Numerals up to 34mm high
Full 4 & 5 digit readout, plus bar graph on selected models*
High contrast and wide angle viewing
Less than 1.2V drop in 4-20mA loop
-40°F to +158°F / -40°C to +70°C operating temperature
FM approvals, ATEX and IECEx certifications, for Ex applications
Field & panel mounting models
Ingress protection up to IP66
Optional backlighting and alarm outputs
Square root extraction, tare, and linearisation
Internal calibration source
Conformally coated printed circuit boards for reliability
* Vertical bar graph models BA326C & BA526C have 4-½ digit readout
New fourth generation 'E' Series loop powered 4-20mA indicators include models for field and panel mounting in both safe and hazardous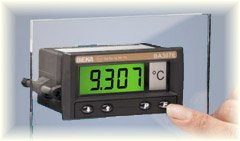 locations. The latest LCD technology enables full 4-digit readout with up to 34mm high numerals, or 5-digit readout with up to 29mm numerals plus a bar graph. High contrast and wide viewing angles provide good visibility under adverse lighting conditions, and a wide operating temperature range satisfies worldwide environmental needs.Included and optional features provide internal calibration source, alarm outputs, display backlighting, lineraisation, square root extraction, and tare calculation.
Intrinsically safe versions have FM approval for both the U.S. and Canada, plus ATEX for Europe, and IECEx for other international destinations. The FM approval includes use as non-incendive devices in Division 2 locations in current-limited loops without the need for a safety barrier. Similarly, Type nA models are ATEX and IECEx certified for use in Zone 2 locations.
All Beka indicators are calibrated to customer requirements free of charge and can be labeled to show units of measurement, tag number, and application.
Display Readability
Display Formatting
No backlight
Display readable in daylight.
Maximum display for 4-digit indicators.
Backlight, loop powered
Display readable in poor lighting conditions.
Maximum display for 5-digit indicators.
Backlight, separately powered
Display contrast enhanced in all lighting conditions.
Backlight colour is orange on Model BA326C only.
Maximum display for 4-½ digit readout
used on Model BA326C & BA526C only.
Duty / Service

Intrinsically Safe, Panel Mounting

Model No.

BA307E

BA308E

BA327E

BA328E

BA326C

Style

 

Shown with backlighting

      

Shown with backlighting

Shown with backlighting

Legacy Status
⇓ Replaces BA307C
⇓ Replaces BA308C
⇓ Replaces BA327C
⇓ Replaces BA328C
⇓ BA326C Replaces BA326B

Front Face DIN Size

96 x 48 mm

144 x 72 mm

96 x 48 mm

144 x 72 mm

48 x 144 mm

Display Format

4 digits, 15mm high

4 digits, 34mm high

5 digits, 11mm high,

plus bar graph

5 digits, 29mm high,

plus bar graph

Two 100 segment bar graphs 95mm high,

plus 4-½ digit,

5.5mm high readout

Ingress Protection

Front IP66, rear IP20

Front IP65, rear IP20

North America,Factory Mutual

USA & Canada:

Entity IS / I / A, B, C, D / T4 Ta = 70°C

I / 0 / AEx ia IIC / T4 Ta = 70°C

Non incendive NI / I / 2 / ABCD / T4 Ta = 70°C – NIFW

I / 2 / IIC / T4 Ta = 70°C – NIFW

USA only:

Entity Cl I Div. 1

Gps A, B, C & D

Nonincendive Cl I Div. 2

Gps A, B, C & D

Europe, ATEX

Group II Category 1G

EEx ia IIC T5

Other Regions, IECEx
Hazloc, Intrinsically Safe, Compact Field Mounting  
Model No.
BA304E
BA324E
BA304G
BA324G
Style
 
 
 

Legacy Status
Replaces BA304C/D
Replaces BA324C/D
Mounting & Enclosure
Field 141 x 212
Field 122 x 120
Display Format
 
 
 
4 digits, 34mm high
5 digits, 29mm high, plus bargraph
4 digits, 34mm high
5 digits, 29mm high, plus bargraph
Ingress Protection
IP66
USA ETL & Canada cETL,Intrinsic Safety       
FM and cFM certification optional
Class I, Div 1, Gp A, B, C, D T5 (USA & Canada)
Class I, Zone 0, AEx ia IIC T5 Ga (USA)
-40°C ≤ Ta ≤ 70°C
Class II, Div 1, Gp E, F, G. Class III, Div 1 (USA & Canada)
Zone 20 AEx ia IIIC T80°C Da (USA)
-40°C ≤ Ta ≤ 60°C
Ex ia T5 Ga -40°C ≤Ta ≤ 70°C (Canada)
Ex ia IIIC Da -40°C ≤ Ta ≤ 60°C (Canada)
Europe, ATEX  
Group II Category 1G
Group II Category 1G
Ex ia IIC T5 Ga -40°C ≤ Ta ≤ +70°C
Ex ia IIC T5 Ga -40°C ≤ Ta ≤ +70°C
Group II Category 1D Ex ia IIIC T80°C Da IP66, -40°C ≤ Ta ≤ +70°C
USA ETL & Canada cETL, Non incendive   
FM and cFM certification optional
Class I, Div 2, Gp A, B, C, D T5
Class II, Div 2, Gp F, G
Class III, Div 2
-40°C ≤ Ta ≤ 70°C
International, IECEx 
Ex ia IIC T5 Ga -40°C ≤ Ta ≤ +70°C
Ex ia IIC T5 Ga -40°C ≤ Ta ≤ +70°C
Ex ia IIIC T80°C Da IP66 -40°C ≤ Ta ≤ +70°C
Alarms
Optional
Backlight, which may be loop or separately powered
Optional
External push buttons
Optional
Standard
Escutcheon scale & tag labeling
Optional
Optional, Slide- In
Etched stainless steel legend plate
Optional
If you need to find a suitable Intrinsically Safe Interface to drive any of these devices please contact Exloc  –
I.S. Interface