Aegex 10 Intrinsically Safe Tablet
The Aegex 10 intrinsically safe tablet is purpose-built for use in the most extreme hazardous areas. It features a large 10.1″ touchscreen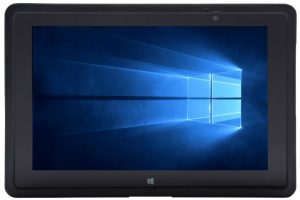 and 4GB of Ram making it ideally suited for applications requiring a powerful device with a large display for user interface. Incapable of producing sparks that may cause ignition of flammable vapour in Class 1 Division 1 and Zone 1 hazardous areas, this industrial device allows for superior mobile computing on dangerous job sites where traditional devices cannot be used.
Running the widely used Windows operating system and certified under the highest standards of safety for some of the most explosive conditions, ATEX/IECEx Zone 1 and UL913 Class 1 Division 1, this tablet is designed to be part of a fully integrated platform that is t
he preferred solution for mobilising the world's most hazardous industries.
Features
Intrinsically Safe for use in hazardous areas (w/ IS camera + video)
Class 1 Division 1, Zone 1
Class 2, 3 Division 1
Windows 10 operating system (8.1 available)
Wi-Fi |  Bluetooth  |  GPS  |  Optional 4G/LTE
Industrial volume with noise cancellation
-10ºC to +50ºC operating temperature
Capacitive Touch with gloves or pen
UP to 12-hours of web browsing battery life
Emergency "man-down" functionality
Hundreds of business apps
Type
Aegex 10 Intrinsically Safe Tablet
Size
Dimensions: 273 x 185 x 16.8mm
Weight: 2.2lbs (980 grams)
Processor
Intel Quad-Core Atom Processor 2.3GHz
Protection Type
IP65
Wi-Fi®
Wi-Fi 802.11 ac/802.11 a/b/g/n dual band (2.4GHz and 5GHz)
Bluetooth®
4.0 Low Energy Technology
Display
Screen: 10.1″ AHVA Full HD Plus
Capacitive Touch: Multi-touch (even works with gloves)
Resolution: 1920 x 1200
Storage/Ram
128GB, 4GB RAM
Software
Windows 8.1 Pro, Windows 10 Enterprise
Camera
8.0 megapixel auto focus rear-facing camera with flash, HD video
2.0 megapixel front-facing camera
Front and rear microphones
Stereo speakers
Location
GPS/GLONASS (cold start <30s, warm start <5s)
Sensors
Ambient light sensor
Accelerometer
Gyroscope
E-Compass
SAR proximity sensor
Certifications
IECEX:IEC Ex 60079: Ex ib IIC T6 Gb, Ex ib IIIC T85°C Db IP6X, Tamb= -10°C…+50°C

ATEX:

Il 2G Ex ib IIC T6 Gb, Il 2D Ex ib IIIC T85°C Db IP6X, Tamb= -10°C…+50°C

North America:

UL913 5th edition: Cl Div 1 Gr A-D T4, Tamb= -10°C…+50°C; 

CI Zo Gr IIC T4 IP65, Tamb= -10°C…+50°C

CAN/CSA 22.2 part 157
Aegex 10 Accessories
Aegex 10 Carrying Case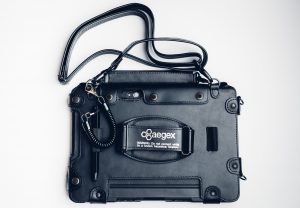 The Aegex10 Leather Carry Case has a side carrying handle, an adjustable leather shoulder strap, and a 360° rotating adjustable hand strap on the back. The case features a front cover with seamless magnetic closure, stylus on tether, and larger back cut out for easy placement on docking/charging station.
The case has been tested to meet UL913 and IECEx 60079-0 requirements to be used in conjunction with the Aegex10 Intrinsically Safe Tablet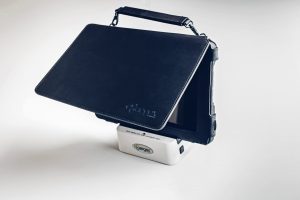 Passive Stylus Pen
Material: Solid aluminium body
Gel silica tip
Weight: 25g
Dimensions: 10mm x 120mm
Aegex 10 Charging Station
Quick-charge solution to recharge tablet in about 2 hours
Just drop tablet onto charging station
No release button needed to remove tablet
Green light charge indicator on tablet when fully charged
WARNING: Do not bring into hazardous environments.
Aegex 10 Docking Station
Holds tablet upright at a 60° angle to use tablet like a notebook
• Enables use of tablet as a desktop with a large external monitor, keyboard and mouse, connected to company Ethernet network
• Allows quick-charge of the tablet via bottom charging contact pads
• Allows locking tablet in dock via Kensington Lock feature
• Features interfaces for typical uses and accessory connectivity including:
1x HDMI
3 x USB 3.0
1 x LAN (RJ45)
1 x Power in (Power Supply External 19V/150W)
WARNING: Do not bring into hazardous environments.
Standard Warranty
The Aegex Standard Warranty includes:
Twelve (12) months for the mobile device
Six (6) months for batteries, chargers, docks, headsets, cables and covers
The protection period starts upon customer's receipt of the device.
Comprehensive Warranty
The Aegex Comprehensive Warranty period is:
Three (3) years for the mobile device.
The protection period starts upon customer's receipt of the device.
Limitations on the Aegex Comprehensive Warranty
It is not possible to extend the period of the coverage beyond Three (3) years.
It is not possible to purchase new coverage once the existing programme has expired.
Aegex may supply a new or refurbished product.
Battery Warranty
The Aegex Extended Battery Warranty:
Starts at the time of the product's original date of purchase.
Is valid for a period of thirty-six (36) months.
Getac EX80 Intrinsically Safe Tablet
The ruggedly designed EX80 tablet delivers Windows
touchscreen technology to the frontlines of the oil and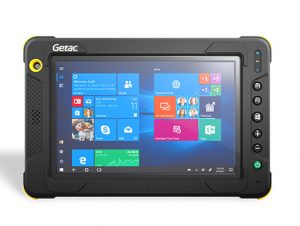 gas industry. Certified for duty under harsh conditions and
where fire hazards may be present, the EX80 brings
unmatched image clarity, precision input ability, andmaximum safety, along with the proven power of the
Windows 10 operating system, wherever work takes you.
Mobility in hazardous zones
The fully rugged EX80 tablet offers great convenience and productivity in a single intrinsically safe mobile device that allows cross-zone operations in Zone 1, Zone 2, and non-hazardous areas. The EX80 has passed extremely stringent tests for explosive environment and received certifications from a reputable third party. The EX80 is certified with ATEX & IECEx Zone 0 / 20 and UL913 Class I / II Division 1.
Designed Safe
The EX80 was engineered from the ground up with user well-being in mind. Surface temperature control, mechanical testing, fault protection, silicone potting compound encapsulation, and the power management system combine to provide ultimate safety during operations. This makes the EX80 uniquely suited for use in the oil and gas industry, where a single stray spark may lead to disastrous consequences.
Windows 10 Professional
The EX80 runs on the Windows 10 Professional operating system. The popular and powerful OS eliminates compatibility issues with most home and office systems, ensuring greater convenience and data clarity.
Thin and Compact
Size matters when it comes to mobility. Weighing in at 1.48 kg and with a thickness of 1.14 inches, the EX80 fits ergonomically in one hand, and the non-slip case makes it easier to grip. Frontline operatives will feel no extra burden when they bring the EX80 along with their tools and equipment.
Bright 8″ Sunlight-Readable Display
The EX80's brilliant 8″ sunlight-readable display with WXGA IPS (600 NITs) screen offers clear and easy viewing in the most challenging conditions. No matter how bright the sun gets in oil fields or on offshore oil platforms, the information on your screen will always be as clear as day.
LumiBond 2.0 — Touch Responsive
Our revolutionary LumiBond® 2.0 technology bonds the display glass to the touch panel and LCD, creating a single panel that is more durable and readable, with enhanced contrast and crisper colors than any other rugged display. The bonded panel responds effortlessly to every touch. Advanced touch modes allow operation in the rain with gloves and the included hard-tip stylus, making the EX80 ideal for signatures and precise note taking, especially when you need to work outdoors in bad weather.
Front and Rear CamerasFront and Rear Cameras
Available front full-HD and rear 8 MP cameras make image and video capture, video conferencing, barcode scanning and field training convenient and simple from any location. Frontline operatives will be able to count on the full support of the home office when they run into situations that require a team effort.
Built to Survive
Only Getac manufactures rugged tablets down to the chassis. The EX80 is engineered to withstand drops, shocks, spills, vibration, dust, liquid, and more. Independently tested and certified to MIL-STD-810G and IP67 standards, the tablet is salt fog resistant. It is ideal for use in the harsh environments found on offshore oil platforms and in oil fields, where a less-rugged device may not survive.
Exceeding Expectations
Our new Bumper-to-Bumper fully rugged warranties go beyond the expected, protecting your productivity.
Accidents happen when you least expect them, especially in a rugged environment, which can cause costly equipment damage and downtime.This is why Getac has introduced accidental damage protection as standard under our new Bumper-to-Bumper warranty, helping minimize your enterprise IT costs.Bumper-to-Bumper is your hassle-free guarantee.You can depend on us to have your unit back in service within days.Standard.
3 years Bumper-to-Bumper.